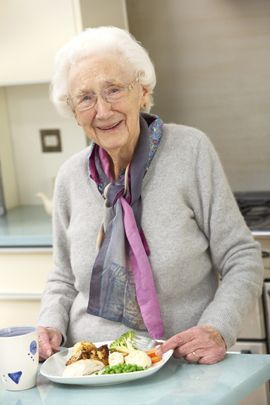 The stories of seniors capable of living at home into their 90s are inspirational and represent a future we may desire for our parents or ourselves. In an ideal world, we picture older adults who remain capable of cooking meals and taking care of chores, albeit a little slower and perhaps with the assistance of a neighbor or family member who visits once a week.
However, the reality is that not everyone will remain physically or mentally capable of living at home—or will even want to live at home. This is where assisted living communities can provide an engaging lifestyle that not only encourage a loved one's independence but also have the built-in support for when assistance is needed.
If, after reading this article, you would like to find out more about senior living communities, or you need to discover a community that may be right for you or your loved one, please give us a call. Our dedicated team will help you find the right community, in the right location, with the right services and at the right price—all for free.
Adventure weeks that allow residents to kayak the Chicago River, outings to local community festivals or creating wildlife-friendly habitat on community grounds: These are just a few of the opportunities available to residents at assisted living communities. For families who think that assisted living communities are synonymous with nursing homes, it is time to dispel a few misconceptions.
Assisted living communities are just that, assisted living, where residents retain the freedom of choosing activities, meals, outings and other aspects of their life. Residents are typically free of serious mental and physical impairment and only require assistance with activities of daily living (ADLs), such as dressing or bathing, and may walk unaided or require use of a walker or scooter to move about.
| | |
| --- | --- |
| Activity of Daily Living | % of Residents Needing Help |
| Medication Management | 81% |
| Meal Preparation | 87% |
| Bathing | 72% |
| Dressing | 52% |
| Toileting | 36% |
| Transferring | 25% |
| Eating | 22% |
Communities are similar to apartment complexes with common areas easily accessible and centrally located. Courtyards with garden beds or walking trails throughout the campus are also common features. Some communities are single-story while others may be multiple stories with elevators.
For families with a parent who has substance abuse issues and is in need of assistance with ADLs, they likely think that these communities won't accept their parent. On the contrary, having a parent with substance abuse, whether prescription or alcohol, is quite common; if a community can keep a resident safe, then a senior with substance abuse may be accepted. However, you should understand that assisted living communities are not detox or rehabilitation centers. Staff will strive to keep the substance abuse habits manageable, but they will not infringe upon a resident's decision to consume pills or alcohol.
---
According to a 2013 study produced by the National Center for Health Statistics, 75- to 84-year-olds comprise 32.4 percent of assisted living communities' population and 50.5 percent are 85 and older. Nearly three-quarters of communities' population is women, and men comprise 28 percent of the population.
---
The number of features found in an assisted living community is often related to whether the community is part of a larger campus where independent living or 55+ living is also offered. In these instances, assisted living residents often have access to all the community amenities. These amenities can include upscale features like ice cream parlors, indoor swimming pools, state-of-the-art fitness rooms, spas and on-site gift shops.
For communities that only offer assisted living, community features may be a library which also serves as a community gathering room and an activity room that doubles as an exercise room. A TV lounge is also a gathering space typically found at most communities, along with a community dining room and private dining room.
While cable and phone service are standard options, more communities are advertising themselves as having Wi-Fi and Internet access, with a computer area designated for resident use. An on-site beauty salon/barber shop also provides another convenience.
Communities frequently have gardening areas for residents, and some communities even use the herbs or vegetables grown in the community gardens in the meals served to residents. Pets are also permitted at most communities, though weight restrictions may apply. There may even an option for pet service if residents need assistance caring for their furry friend.
Apartment sizes may include studio, one- or two-bedroom floor plans, or just studio apartments with a companion or private option available. Many communities include a kitchenette in the apartment, along with a private bathroom. There typically is no washer/dryer in each apartment, though communities often provide laundry facilities on each floor or have their staff handle the laundry.
Depending upon the community's size, there may be a designated staff member who is the activity director. While bingo, cards and movie nights are standard activities, other communities have creative offerings that include manicures and pedicures, spelling bees and cooking classes. Outings to restaurants, shopping excursions or local festivals are also popular offerings.
---
Assisted living communities typically market themselves as having a lifestyle free from homeowner responsibilities and daily chores, with the benefit of living in a community setting. Services such as meals and snacks, housekeeping and laundry services, and scheduled transportation for errands, outings or appointments are
offered, along with assistance with ADLs.
At assisted living communities, advanced healthcare services, such as skilled nursing services which are available at nursing homes, are typically not offered. Instead, staff members provide assistance with ADLs, which may include medication administration and assistance with dressing, bathing and grooming. However, depending upon the size and licensing type of the community, there may be separate wings or neighborhood for residents who do require skilled nursing services or specialized memory care for Alzheimer's or dementia.
---
Just as amenities vary at communities, so too does pricing, and it is difficult to compare one community against another. The monthly rate for most communities includes the cost of rent and services such as housekeeping, laundry and meals. Oftentimes, utilities are included except for telephone. A one-time community fee is standard, and there may be a one-time pet fee. Some communities also charge an application fee or an assessment fee. The costs also vary by state, with Alaska and Delaware having the highest median monthly costs and Georgia and Missouri the least expensive. Many communities are private pay or accept long-term care insurance.
Expect the costs of ADL services to fluctuate after your parent joins a community because he/she might need increasing levels of service as he/she ages. Care plans, which outline the level of services being provided, are often reviewed yearly or quarterly, depending upon a resident's health, so that the appropriate level of services is being provided. Some communities include a basic level of ADLs and medication reminders within the monthly fee, and a higher level of assistance, such as memory support or continence reminders, is an additional fee. Other communities assign care points to the level of support your parent will need and charge a fixed amount per care point, in addition to the monthly fee.
The states with the most expensive median monthly assisted living costs are:
The states with the least expensive median monthly assisted living costs are:
---
Once you find a community that meets your price range and desired location, it is important to assess the community, not only to determine whether your loved one will fit in with the community but whether its staff are properly caring for residents.
Finding inspection records on assisted living communities
Unless ADL assistance is being handled by a third-party home care agency, most assisted living communities are licensed and inspected by a state agency charged with oversight of long-term care facilities. These inspection records are available from each state, either online or through a public records request. Most states also require assisted living communities to post or make available their most recent inspection results upon request. By viewing several years' worth of records, you can see if there are patterns of failing to follow procedure, and whether the violations are life-threatening or minor.
Touring an assisted living community
Touring a community at different times is recommended, as this way you can view residents and staff throughout the day, rather than just at lunch or during activities. And because touring can be overwhelming at first, bring a checklist with you to note certain features. Also, make sure to use all of your senses to study the community. If you smell urine or see the building is in need of repair, it could be a red flag.
The assessment process
Upon finding a community that your parent likes, the next step is an assessment by the community's clinician to determine the level of services your parent
will require and create a care plan. The community's priority is keeping residents safe, and during the assessment, you should share your parent's complete medical history, whether it is frequent falls, forgetful moments or substance abuse. No matter how sensitive the information, you should feel safe disclosing it, because the clinician is not there to judge and will maintain confidentiality. If your parent's substance abuse, or another sensitive issue, doesn't come up during the admissions process, do not count this as fortunate but rather as a red flag to search for another community. Clinicians can tell when information is being withheld based upon a review of a person's medical history and how the family acts during the interview.
If your parent is exhibiting early signs of dementia, it is important to be honest with yourself whether an assisted living community is the best fit and if you feel ashamed at his/her memory loss. There is still a stigma associated with memory loss, and joining a memory care community doesn't equal a loss of independence. Instead, memory care communities are designed specifically for residents to feel independent as they freely and safely wander. In this instance, ask the clinician whether their assisted living community provides memory care, and if so, what services are offered. What you don't want to face is moving your parent because his/her level of care exceeds what a community can provide.
---
If you have done your homework, your parent should easily settle into the community. Many communities have welcome ambassadors and new resident gatherings each month to make everyone feel welcome. There are also family nights and community-wide celebrations where family is invited to join in the fun. Ultimately, an assisted living community should feel like home, albeit with more friends and less responsibility.
Written by SeniorHomes.com's Andrea Watts.
---