Oregon Assisted Living
Cost of Oregon Assisted Living
The average cost of Assisted Living in Oregon is $3,880 per month. This is higher than the national average which is $2,877 per month.
In Oregon there are 374 Assisted Living Facilities. We can help you find the best matches for your needs.
Oregon Assisted Living Facilities by City
Greater Portland Assisted Living
---
Other Areas in Oregon
Map of Oregon Assisted Living Facilities
Overview of Oregon Assisted Living
Residents of assisted living in Oregon can take advantage of the state's pastoral surroundings, robust offering of cultural and recreational activities, sales-tax-free shopping, and excellent medical facilities. There are several state and local departments dedicated to overseeing the quality of assisted living care so you can be assured that your family member or loved one will be receiving the highest quality of care in an Oregon assisted living facility.
Assisted Living in Oregon Defined
Assisted living is a type of long-term care provided to elderly residents who may need help with activities of daily living such as meal preparation, bathing and grooming without assistance. Oregon assisted living facilities are required to provide full meal service, laundry services, housekeeping, medication management, planned activities and 24-hour staff. Most residents are also assigned to their own private room with private bathroom facilities. Assisted living communities are often confused with nursing homes. A nursing home provides some of the same care giving services of an assisted living community such as help with toileting, grooming and meals. However, nursing homes are designed to care for extremely frail patients who have serious medical conditions and require round-the-clock nursing care and supervision. In Oregon, nursing homes are required to provide 24-hour nursing staff, whereas assisted living communities are not. You can find nursing homes in Oregon in our
Nursing Homes
category.
Regulation of Assisted Living in Oregon
Facilities providing assisted living in Oregon must be licensed by the state. The
Seniors and People with Disabilities Division
of the
Oregon Department of Human Services
is responsible for providing licenses and regularly monitoring all communities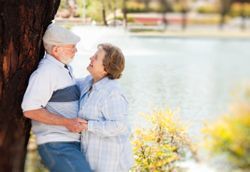 to ensure that they comply with state and federal regulations. If a community fails to meet all standards, the community will be issued a plan to correct all deficiencies. Licensed communities must keep copies of these inspection reports on file and present them upon request. The Department of Human Services is also currently working on putting these reports into an online database to make it easier for consumers to research assisted living communities in their area. Workers who provide care at an Oregon assisted living community are not required to undergo any formal training or obtain a license. However, the State does require that all employees pass a criminal background check.
Support for Oregon Assisted Living Residents
Oregon assisted living residents and their family members can turn to the
Office of the Long-term Care Ombudsman
for resources and support concerning long-term care. The Office is an independent agency that handles complaints concerning the quality of resident care, lost or stolen property, evictions, guardianship and more. The Office is comprised of several full-time staff members and a core group of specially-trained volunteers who provide advocacy on behalf of elderly residents. They investigate all complaints and work to resolve problems so that all parties are satisfied. The Office also coordinates a volunteer companion program to provide companionship to residents of assisted living communities.
Back to Top