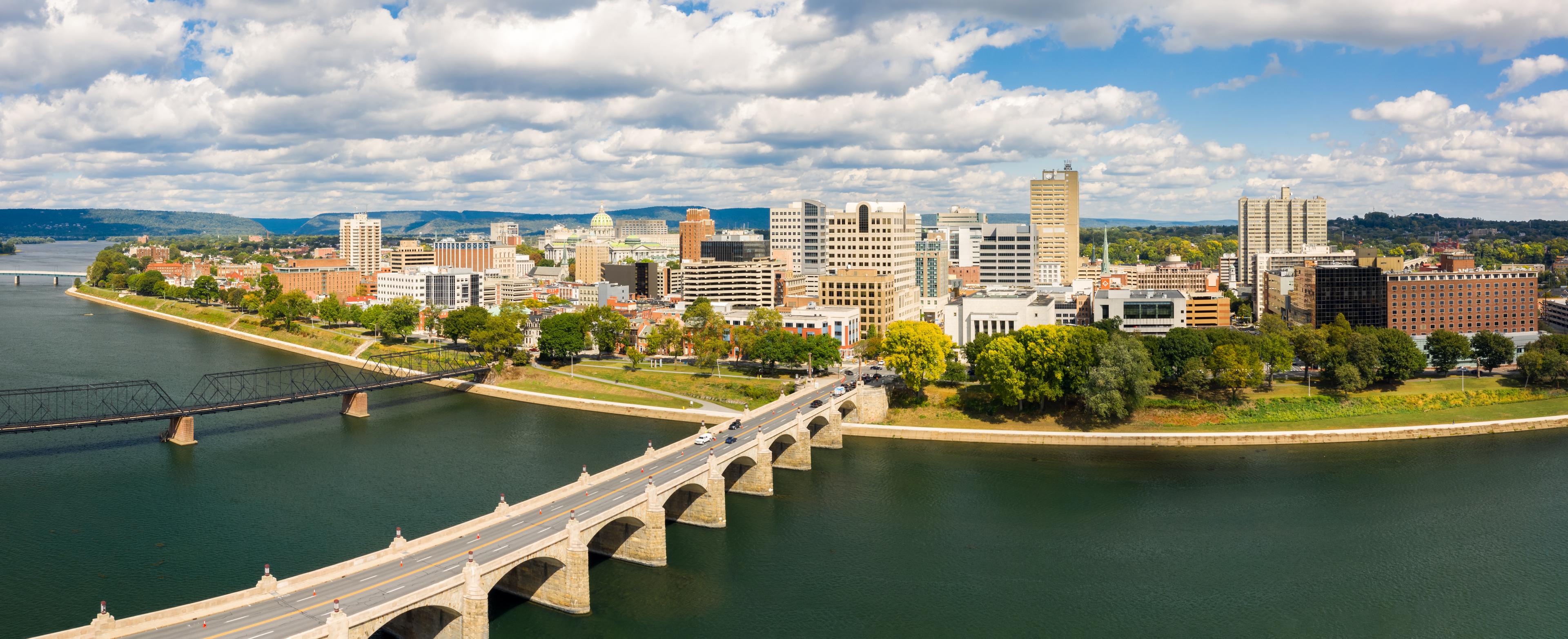 Overview of Pennsylvania Assisted Living
Known as the Keystone State, the commonwealth of Pennsylvania earned its nickname because of its position right in the middle of the original 16 colonies, holding them all together like the keystone of an arch. Today, the state continues to play an important role in the social, economic and political development of our great nation.
Pennsylvania's central location offers easy access to six surrounding states as well as the Canadian border, and the state boasts 100 miles of coastline along Lake Erie and the Delaware Estuary. From the busy cities of Pittsburgh and Philadelphia to the peaceful farmlands of Quaker Country, assisted living in Pennsylvania offers seniors a life filled with culture, entertainment and a rich American heritage.
Popular Cities in Pennsylvania
Cost of Pennsylvania Assisted Living
The average cost of assisted living in Pennsylvania is $3,555 per month. This is higher than the national average which is $2,877 per month.
Paying for Assisted Living in Pennsylvania
Most Pennsylvania seniors pay for their long-term care using their personal savings or those of their families. Low-income seniors who are unable to afford the cost of assisted living in Pennsylvania may qualify for Medical Assistance Coverage through Medicaid if they require skilled nursing care and also meet the eligibility requirements.
Assisted Living in Pennsylvania Defined
An Assisted Living Residence (ALR) in Pennsylvania is defined as "a significant long-term care alternative to allow individuals to age in place…and develop and maintain maximum independence, exercise decision-making and personal choice."
Assisted living in Pennsylvania is also available through Personal Care Homes (PCH). There are three main differences between an assisted living residence and a personal care home:
Concept – An ALR is designed to allow residents enjoying assisted living in Pennsylvania to "age in place," meaning that they will not be relocated to a different long-term care facility when their needs increase.
Construction – In a PCH, residents live in bedrooms that may be shared with up to three other people. An ALR room is similar to a studio apartment in the sense that the resident will have a private living space with their own kitchen and bathroom.
Level of Care – In line with the first difference, ALRs offer changing services so that a resident may advance to a nursing home level of care when necessary. When living in a PCH, a person must transfer to another facility when his/her health needs become too great, as a PCH is prohibited from providing acute medical care.
Regulation of Pennsylvania Assisted Living Facilities
ALRs are overseen by the Pennsylvania Department of Aging, whose agents perform at least one unannounced inspection of each facility per year. Regulations for assisted living in Pennsylvania were updated and improved in January of 2011. Both the Administrator and the staff of each assisted living residence in Pennsylvania must be adequately trained to perform his/her duties.
For the Administrator, this means:
Completion of a 100-hour standardized Department-approved training course
A passing score on a competency-based training test
Certification in CPR and obstructed airway techniques
Training in First Aid
24 hours of annual training relating to the job duties
General staff must complete the following:
Pass the Department-approved direct care training course/competency test
Certification in First Aid and CPR
An initial orientation approved by the Department before providing direct care to residents
4 hours of dementia-specific training within 30 days of hire
16 hours of annual training relating to their job duties
Legislation of Pennsylvania Assisted Living Facilities
Find Communities
Senior Homes has an extensive directory of senior living options, with care and living providers across the United States. 
Assisted Living Articles and Resources
Compare Costs, Photos, & Reviews of All Your Options Near Pennsylvania
By clicking "Get Costs" I am providing express written consent to receive calls including automated/pre-recorded calls and automated texts for which I may incur a cost, as well as emails from Caring and its partners. I understand I am not obligated to provide this consent to utilize Caring's service(s). I acknowledge I was able to review the Agreement to be Contacted, Terms of Use, and Privacy Policy.