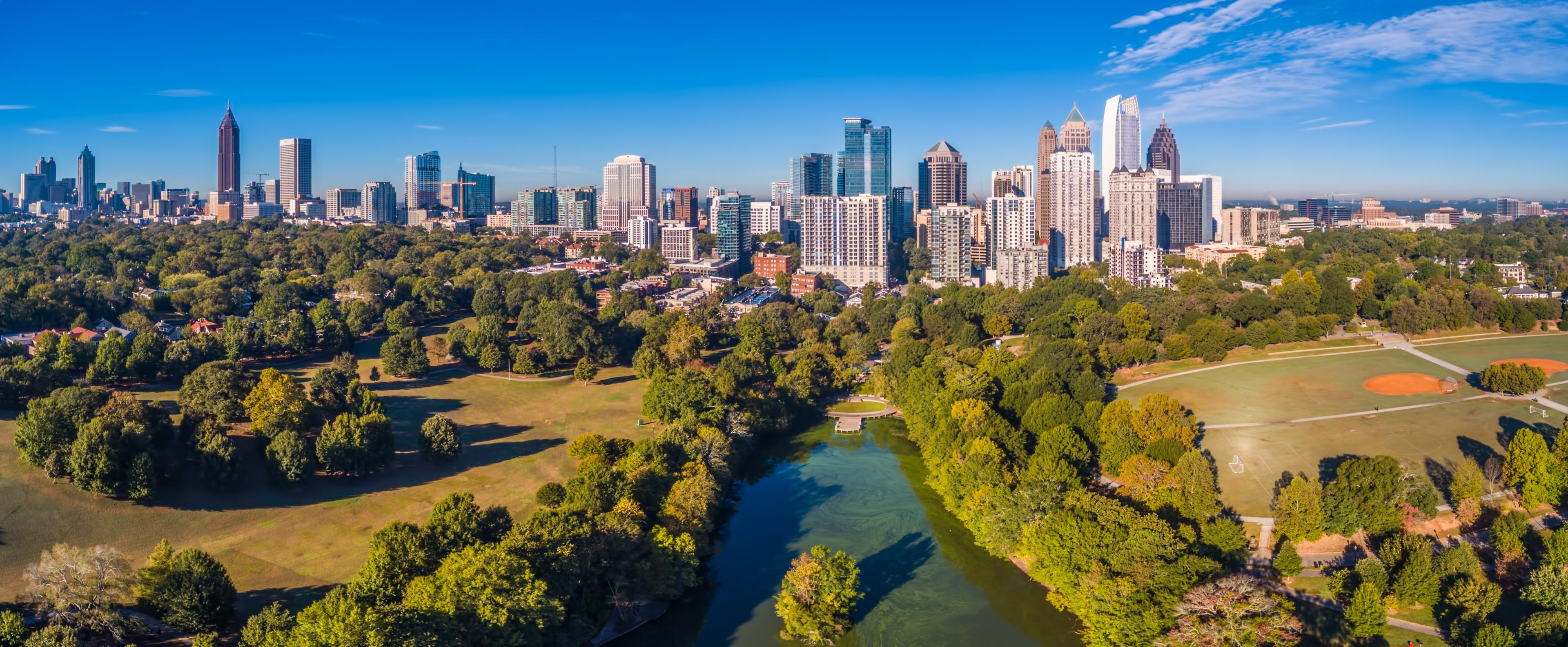 Overview of Georgia Assisted Living
Although the beautiful weather of "The Peach State" is enough to draw anybody to its cities, generous sunshine isn't all Georgia has to offer. The state's notable attractions include Stone Mountain Park and the Georgia Aquarium—the largest aquarium in the world. Georgia's capital city, Atlanta, is host to a number of museums, shopping centers and the famous Atlanta Botanical Garden.
With a population of more than 9.5 million, Georgia is the ninth-most populous state, and part of the fastest-growing area in the country. Whether residing in a busy city or settling in a smaller town, beautiful weather and plenty of southern hospitality are in store for those who choose assisted living in Georgia.
Popular Cities in Georgia
Cost of Georgia Assisted Living
The average cost of assisted living in Georgia is $2,880 per month. This is higher than the national average which is $2,877 per month.
Paying for Assisted Living in Georgia
Funding for assisted living in Georgia is mostly private and paid for by the person who wishes to live in the facility or by their family. Seniors who are interested in seeking additional financial support for assisted living may be interested in information about long-term care insurance or Veterans Benefits.
Assisted Living in Georgia Defined
In Georgia, assisted living services, such as help with grooming, bathing, taking medications and ambulation, are called "personal services." Communities that provide personal services to less than 25 residents are called Personal Care Homes while communities that serve more than 25 residents are called Assisted Living Communities. You can find Personal Care Homes in our Care Homes category.
Communities that offer personal care services in Georgia are different from nursing homes in that they do not provide skilled nursing care to patients. Assisted living is for seniors who require a lesser amount of assistance and medical care than residents of nursing homes, and who are still able to enjoy an amount of independence from a caretaker.
Licensing of Georgia Assisted Living Facilities
In the state of Georgia, there are several types of facilities that provide care services for adults. Facilities that specifically provide housing and assisted living services, such as bathing, grooming or supervision for the elderly are called personal care homes and assisted living communities. 
Legislation of Georgia Assisted Living Facilities
Last year the State of Georgia was in discussion with the state Fire Marshall regarding the fire safety codes (pg 14) for the recently created assisted living community licensing category. Currently, assisted living facilities are required to conduct fire and evacuation drills every quarter on each shift, and a complete evacuation of the premises is required.
The National Fire Protection Association (NFPA) lists provisions for automatic sprinklers, fire alarms, and staffing that should be found at board and care facilities, which is the classification assigned to assisted living facilities.
Find Communities
Senior Homes has an extensive directory of senior living options, with care and living providers across the United States. 
Assisted Living Articles and Resources
Compare Costs, Photos, & Reviews of All Your Options Near Georgia
By clicking "Get Costs" I am providing express written consent to receive calls including automated/pre-recorded calls and automated texts for which I may incur a cost, as well as emails from Caring and its partners. I understand I am not obligated to provide this consent to utilize Caring's service(s). I acknowledge I was able to review the Agreement to be Contacted, Terms of Use, and Privacy Policy.