Washington Memory Care
Cost of Washington Memory Care
The average cost of Memory Care in Washington is $3,983 per month. This is higher than the national average which is $2,958 per month.
In Washington there are 133 Memory Care Communities. We can help you find the best matches for your needs.
Washington Memory Care Communities by City
Seattle-Tacoma/Puget Sound Area Memory Care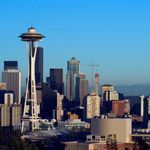 ---
Other Areas in Washington
Map of Washington Memory Care Communities
Overview of Washington Memory Care Facilities
With stunning natural beauty including beaches, lakes, mountains and lush, evergreen forests, there might seem like nothing more to Washington retirement living than scenic views. However, seniors who choose to receive memory care in Washington enjoy close proximity to many urban amenities and services including world-class hospitals and medical research facilities. In fact, Western Washington is home to the
University of Washington's Alzheimer's Disease Research Center
in Seattle, which is supported by
The National Institute on Aging
. The Center recruits volunteers locally to participate in national studies that learn more about and research potential cures for Alzheimer's disease.
Memory Care in Washington Defined
Often called Alzheimer's care, memory care is a type of elder care focused on providing a safe and stimulating environment for seniors facing the challenges of Alzheimer's Disease or dementia. In addition to providing room, board and assistance with the activities of daily living, such as bathing, dressing and eating, Washington memory care facilities are often specially designed to help seniors with memory loss:
Move about the community without getting lost
Feel less agitation and isolation
Stay within safe, enclosed indoor and outdoor areas
Participate in memory-stimulating activities
Regulation of Washington Memory Care Facilities
While there are stand-alone facilities that cater exclusively to seniors with memory loss, most long-term, residential memory care services in Washington are provided in larger assisted living facilities, care homes or nursing homes. Many adult day care locations will also welcome seniors with memory loss for short-term, daily care stays giving home-based or family caregivers a break. Assisted living facilities, care homes and nursing homes in Washington must be licensed by the state and are overseen by the
Washington State Department of Social and Health Services (DSHS)
. Employees are required to complete at minimum of 75 hours to become certified to work in these care facilities and undergo 12 hours of continuing education each year. You can find
Assisted Living
,
Care Homes
and
Nursing Homes
in Washington in our other categories.
Back to Top