Maryland Nursing Homes
Cost of Maryland Nursing Homes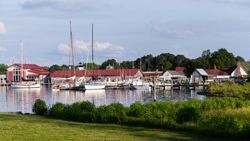 The average cost of Nursing Homes in Maryland is $278 per day. This is higher than the national average which is $228 per day.
In Maryland there are 257 Nursing Homes. We can help you find the best matches for your needs.
Maryland Nursing Homes by City
Baltimore Area / Central Maryland Nursing Homes
---
Washington Metropolitan Area Nursing Homes
---
Other Areas in Maryland
Map of Maryland Nursing Homes
Overview of Maryland Nursing Homes
The one million seniors living in Maryland have many choices for skilled nursing throughout the state. Just as importantly, Maryland has one of the top hospitals in the country. The John Hopkins Hospital ranks in the top three hospitals in cardiology, heart surgery, ear, nose and throat, geriatrics, gastroenterology, neurology, neurosurgery, ophthalmology, psychiatry, rheumatology and urology. When the time comes to look for a nursing home, the state has plenty of top-notch nursing home facilities to suit the individual needs of each senior.
Nursing Homes in Maryland Defined
Generally, there are three types of Maryland nursing homes including assisted living, hospice and more traditional nursing homes. Assisted living homes take in patients, who need assistance, but not constant medical supervision. Hospice is the opposite. More traditional nursing homes help patients that need both assistance and medical supervision. These seniors might need physical therapy. There are a variety of nursing home services within this category that can make a nursing home more able to provide the best care for seniors. These include Alzheimer care, rehabilitation care, tracheostomy care, ventilator care, dialysis care, and central IV therapy. Patients needing these services automatically need skilled nursing. Not all of these services will be offered at every nursing home.
Regulation of Maryland Nursing Homes
The Office of Health Care Quality, under the Maryland Department of Health and Mental Hygiene, regulates and licenses all hospitals and health-related institutions in Maryland, including nursing homes. According to Maryland Manual On-line, the Office of Health Care Quality conducts more than 10,000 inspections each year. This office is responsible for ensuring that each nursing home gives it's patients the best care possible. The Office of Health Care Quailty enforces federal, state and local laws including Maryland's Resident's Rights and Services law, which requires nursing homes to "provide care for residents in a manner and in an environment that maintains or enhances each resident's dignity and respect, and in full recognition of the resident's individuality." However, if nursing home residents feel their rights are being ignored, the Maryland Long Term Care Ombudsman Program investigates the complaint and will act as the patient's advocate. In Maryland nursing homes, one Registered Nurse is required per 100 patients and an additional nurse's aide per 25 patients. So, in a nursing home with a 100 patients, one RN and four nurses would be on duty at all times. Nurses aides employed at Maryland nursing homes are required to obtain training in recognizing resident abuse and caring for individuals with dementia.
Paying for Nursing Homes in Maryland
Additional costs may be incurred including television, telephone, laundry, and transportation. The seniors should also continue their healthcare insurance coverage as it covers hospitalizations and outside medical expenses. Medicare Part A covers the first 20 days in a nursing home. Most insurance companies do not cover long term care in a Maryland nursing home.
Back to Top