California Nursing Homes
Cost of California Nursing Homes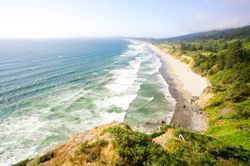 The average cost of Nursing Homes in California is $245 per day. This is higher than the national average which is $228 per day.
In California there are 1301 Nursing Homes. We can help you find the best matches for your needs.
California Nursing Homes by City
Los Angeles County Nursing Homes
---
San Francisco, North Bay, East Bay Nursing Homes
---
Riverside, San Bernardino Area Nursing Homes
---
Greater San Diego Nursing Homes
---
Orange County Nursing Homes
---
Greater Sacramento Area Nursing Homes
---
San Jose - Sunnyvale - Santa Clara Area Nursing Homes
---
Fresno Area Nursing Homes
---
Other Areas in California
Map of California Nursing Homes
Overview of California Nursing Homes
California, called the "Golden State," is an excellent place to spend your golden years due to the warm climate, beautiful beaches and wealth of day trip opportunities available to seniors. A favored retirement destination for older adults, a 2011 census estimate states that California residents over 65 make up 11% of the population, over 4 million seniors. The culture of this sunny state is very favorable to senior interests, and the infrastructure boasts notable medical facilities such as Cedars-Sinai in Los Angeles and UC Irvine in Orange for ongoing and emergency medical care.
Nursing Homes in California Defined
Nursing homes in California are carefully defined and regulated to provide excellent care to seniors. Skilled nursing facilities are the broadest umbrella encompassing senior care; this term refers to facilities that provide nursing and supportive care to seniors in need of it. Beneath this larger definition are more specialized facilities, such as a distinct part nursing facility which is typically found within a hospital, as well as immediate care facilities, which are more suitable for rehabilitation-focused care. Continuing care nursing facilities will have a community of homes for independent living while still maintaining a nursing presence near the residents in case it is needed. Your lifestyle, needs and preferences will determine which of these California nursing home options will be the best fit.
Regulation of California Nursing Homes
In 2009, California law voted to increase mandatory nursing care for California nursing home residents that were not on specialized care from 3.0 hours a day to 3.2, ultimately giving more attention and assistance to seniors. There are strict rules and regulations that ensure that every nursing home facility has at least one nurse on duty at all times, with larger facilities that contain 67 or more beds gaining a nursing director as well. These rules help enforce the 3.2 nursing hours per resident, per day rule and help keep residents safe if a medical concern should arise.
Paying for Nursing Homes in California
While costs for nursing home facilities in California can vary widely, but on average a semi-private room will cost around $215 per day while a private room sits at around $285. When selecting a nursing home that suits your needs, bear in mind that costs will increase around in-demand cities such as San Francisco and San Diego. Due to the demand for nursing homes in California, if a facility interests you it's best to place your name on a waiting list as soon as possible to ensure availability. Additional services such as medication, meal planning, or physical rehabilitation may carry an additional fee, so be sure to discuss your complete care needs with any facilities you are considering. In addition, each facility has its own culture of activities, socialization and attitude, so scheduling tours are the best way to determine the cost/benefit ratio of your chosen locations.
Back to Top