Utah Retirement Communities
Utah Retirement Communities by City
Salt Lake City Metropolitan Area Retirement Communities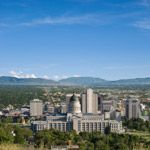 ---
Map of Utah Retirement Communities
Overview of Utah Retirement Communities
Home to the Great Salt Lake and a variety of other famous tourist attractions, Utah offers plenty of incentives to anyone considering retirement within the state. The St. George and Park City areas are experiencing a boost in population, especially in incoming retirees. Utah's climate is hot and arid during the summer months, with plenty of dry snow to be found in the mountains. Some areas experience enough snow to make places like Ogden attractive for skiers. On the financial side, retirees may be able to take advantage of a small retirement tax credit when they move into the state.
Retirement Communities in Utah Defined
What makes Utah retirement communities so special are the unique services they provide senior residents. A retirement community offers seniors a place to call home without having to deal with the hassles of maintaining a home. The staff take care of the housekeeping and maintenance, which means that residents don't have to deal with the hassles of laundry, lawn care or apartment upkeep. This gives retirees a chance to enjoy a number of exciting activities, from golfing and tennis to walking and relaxation. In addition to any on-site amenities available, residents can also enjoy local dining, entertainment and sightseeing options. Unlike assisted living communities and nursing homes, independent retirement communities allow residents to plan their activities as they choose and travel as they please, thereby preserving and encouraging their independence.
Back to Top