Michigan Nursing Homes
Cost of Michigan Nursing Homes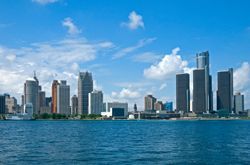 The average cost of Nursing Homes in Michigan is $249 per day. This is higher than the national average which is $228 per day.
In Michigan there are 491 Nursing Homes. We can help you find the best matches for your needs.
Michigan Nursing Homes by City
Metro Detroit Nursing Homes
---
Other Areas in Michigan
Map of Michigan Nursing Homes
Overview of Michigan Nursing Homes
Michigan has a long history associated with water activities. Even seniors living in Michigan nursing homes can easily enjoy the ambiance of the water. Picnics, festivals and other outings that take advantage of the wide open green spaces and sparkling blue waters of Lake Michigan are sure to be eagerly anticipated by these seniors. With four nationally ranked medical centers and 34 high-performing ones, individuals who live in a Michigan nursing home will have access to top notch health care across the state. The University of Michigan Hospitals and Health Centers, conveniently located in Ann Arbor, is a teaching hospital specializing in 14 areas that have been ranked nationally. Some of these specialties include cancer, urology, pulmonology, rheumatology and geriatrics. Other hospitals in the state include Spectrum Health in Grand Rapids, Henry Ford Hospital in Detroit, Beaumont Hospital in Royal Oak and Munson Medical Center in Traverse City.
Nursing Homes in Michigan Defined
Nursing homes in Michigan provide nursing care that is designed to help seniors receive a certain standard of care. This nursing care can either be skilled or intermediate, depending on the needs of a particular person. With intermediate nursing care, an individual might need occasional help with their daily activities such as bathing, dressing and things of that nature. Skilled nursing care is available for those seniors who need medical care around the clock. In addition, assistance with daily tasks is provided as well.
Regulation of Michigan Nursing Homes
The Michigan Department of Community Health is the government agency responsible for ensuring that long term facilities, such as nursing homes in Michigan, are in compliance with the licensing requirements. This is accomplished by an inspection, or survey, that is carried out about every 12 months. A survey report is generated after each survey. This report details the results of the inspection, including areas that need improvement. This information must be posted so residents and their families can view it.
Paying for Nursing Homes in Michigan
Seniors who live in nursing homes in Michigan will find there are several ways in which to pay for such care. Long term insurance that has been designed for this need is one option. Some seniors are able to self-pay due to the proceeds gained from selling their assets such as a home or business. Still other seniors rely on Medicaid to pay for their stay in a nursing home. Medicaid is a federal program that is need based. As such, only the most financially unable seniors are able to qualify for it. Medicare typically only pays for a few days of nursing home care as a transition from a hospital stay to the senior's home. There is a wide range of costs for a senior to live in a Michigan nursing home. There costs of such a stay depend on a number of variables and these must be taken into consideration. These include the type of room, the area of the state and the care needed by the senior. In general, seniors will pay more for nursing home care in a metro area when compared to a rural area and more care will be noted with an increase in the cost as well. A private room in a nursing home will cost an individual more than a semi-private room when in a nursing home.
Back to Top