Michigan Memory Care
Cost of Michigan Memory Care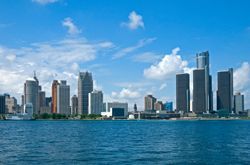 The average cost of Memory Care in Michigan is $4,265 per month. This is higher than the national average which is $2,958 per month.
In Michigan there are 183 Memory Care Communities. We can help you find the best matches for your needs.
Michigan Memory Care Communities by City
Metro Detroit Memory Care
---
Other Areas in Michigan
Map of Michigan Memory Care Communities
Overview of Michigan Memory Care
Being that it's one of the Midwest's Great Lake states, Michigan is an area of breathtaking natural beauty. It is also a place that offers so much more through the various retirement living options that seniors, especially those searching for a Michigan memory care community, can choose from. As the eighth-most populous state in the country, Michigan is host to thriving urban environments that are home to various top medical facilities. In particular, the University of Michigan is home to the
UMHS Alzheimer's Disease Center
, a facility dedicated to pioneering extensive and cutting-edge research, care and education in the field of Alzheimer's, dementia and other degenerative memory conditions.
Memory Care in Michigan Defined
Sometimes referred to as dementia care or Alzheimer's care, memory care is a form of senior living tailored to fit the requirements and needs of elderly citizens suffering from forms of progressive memory loss. Although some assisted living communities do provide memory care in Michigan, there are also communities that exclusively care for seniors with dementia. Caregivers provide not only a safe and secure setting for seniors, but also help residents lead comfortable, happy lives filled with activity and socialization. Programs within the memory care communities are designed to both help seniors retain their current skills and memories, as well as develop new ones.
Back to Top