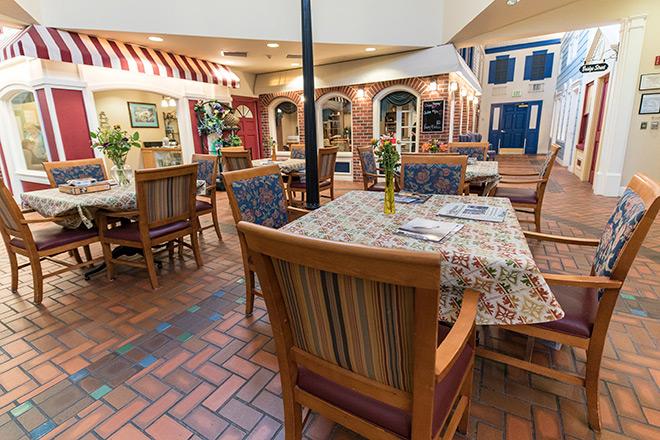 Description of Brookdale Olympia West
__________________________________________
At Brookdale Olympia West (formerly Clare Bridge of Olympia), we provide exceptional memory care from seniors suffering from Alzheimer's Disease or dementia.
Brookdale Olympia West provides each resident with a unique service plan designed to anticipate and meet their specific needs. Our service plans are especially designed to help residents feel safe and add meaning to their day. Physical and behavioral needs, as well as life history, play an integral role in maintaining familiar daily routines and service plans for each resident. These plans are reviewed regularly by staff to ensure that we meet the changing needs of our residents.
It takes a certain kind of employee to effectively assist those with those with memory loss. To do so one must have compassion, understanding and creativity. Our staff is carefully selected and trained to understand and manage the unique challenges associated with dementia. Many of the same caregivers are with a resident throughout the day, helping with all their needs and giving them a sense of familiarity
Alzheimer's and dementia care experts work at Brookdale to provide training, ongoing support and creative problem solving to all of our memory care staff.
Brookdale Olympia West has lovely, peaceful surroundings inside and out. Our homelike setting was designed to recreate environments people have enjoyed throughout their lives. Interior spaces are scaled and decorated like those of a private home. Indoor and enclosed outdoor walking paths give residents the opportunity to explore safely.
Brookdale Olympia West Amenities
Room and housing options
Companion Suites: We offer companion suites
Photos of Brookdale Olympia West
Tour Brookdale Olympia West
The best way to get to know a community is by scheduling a tour. See the facilities, meet the staff and residents, and get a feel firsthand what it's like to live at Brookdale Olympia West.
Map of Brookdale Olympia West
Reviews of Brookdale Olympia West