Assisted Living
Memory Care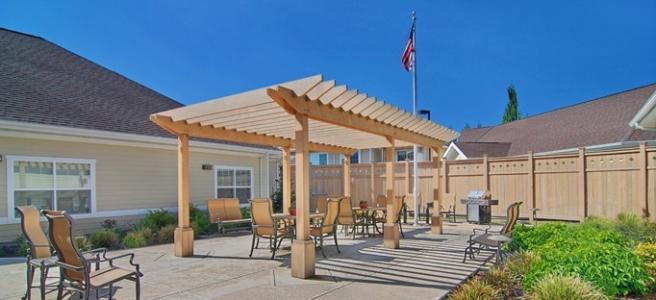 Description of Brookdale Geary Street
_________________________________________________
Brookdale Geary Street (formerly Wynwood of Albany) offers personal care options for seniors. We take the time to know you, your family, your friends and your dreams. We look to have you do all that are you able to do, and stay as independent as possible.
Beautiful & Comfortable Surroundings
Brookdale Geary Street has residences of different sizes to fit your needs. We have private and companion suites, and separate areas for dining and entertaining. Plus, we offer large living and activity rooms, and smaller gathering rooms so you can have as much privacy or socializing as you like.
Highly Personalized Services & Care
We design a personalized service plan for each community member, and we base our service fees on delivering quality service and care to each individual. Our staff regularly updates these plans so we change with the needs of our residents. Our trained staff are available to help with personal needs at any time of day for bathing, hygiene, clothes selection, dressing, grooming, mobility, transferring and dining assistance.
Innovative Senior Care
Innovative Senior Care by Brookdale is a proactive wellness and therapy system that helps residents of Brookdale Geary Street retain or enhance their independence. ISC services include home health, physical therapy, occupational therapy and speech therapy. Wynwood has an on site therapy gym and is proud to offer this proactive approach to care!
Our community also offers Alzheimer's and dementia care through our nationally recognized Clare Brige program. Through this program our residents experience daily moments of success and benefit from the personalized care provided by associated trained to understand needs of seniors living with Alzheimer's or dementia.
Brookdale Geary Street Amenities
Photos of Brookdale Geary Street
Tour Brookdale Geary Street
The best way to get to know a community is by scheduling a tour. See the facilities, meet the staff and residents, and get a feel firsthand what it's like to live at Brookdale Geary Street.
Map of Brookdale Geary Street
Costs at Brookdale Geary Street
Assisted Living
This level of care provides support for those who need help with personal care needs such as cleaning, bathing, and dressing. Residents selecting this level of care are treated to many amenities in a home-like atmosphere, while getting support in their daily lives.
Reviews of Brookdale Geary Street