Oklahoma Nursing Homes
Cost of Oklahoma Nursing Homes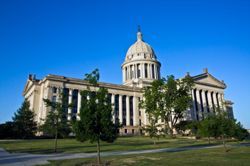 The average cost of Nursing Homes in Oklahoma is $146 per day. This is lower than the national average which is $228 per day.
In Oklahoma there are 338 Nursing Homes. We can help you find the best matches for your needs.
Oklahoma Nursing Homes by City
Oklahoma City Area Nursing Homes
---
Tulsa/Green Country Nursing Homes
---
Other Areas in Oklahoma
Map of Oklahoma Nursing Homes
Overview of Oklahoma Nursing Homes
Oklahoma, known as the "Sooner State", has a state motto "Labor Omnia Vincit" (Labor conquers all things). In other words, the people of Oklahoma recognize and cherish the value of hard work. It is not difficult to see the evidence of that when looking at the accomplishments that Oklahoma has to boast of during its 100 years of existence as a state. The care Oklahoma extends to its aging community is no exception. Baptist Medical Center of Oklahoma in Oklahoma City is rated a top performing hospital in geriatrics, orthopedics and urology.
Nursing Homes in Oklahoma Defined
Nursing Homes in Oklahoma are defined as institutions that offer the complete, 24/7 care for their resident's body, mind and spirit. Nursing homes are institutions that provide medical care as well as daily assistance to residents who are no longer able to care for themselves. Seniors and loved ones looking for elder care often confuse nursing homes in Oklahoma with assisted living facilities. These two types of institutions offer a similar environment but different kinds of care. Assisted living facilities are intended for seniors who are not comfortable living alone but who can mostly take care of themselves. They may need help with things such as preparing meals or laundry services but otherwise are just more comfortable having someone within calling distance should they need assistance with anything. A nursing home provides the services of physicians, nurses, dieticians and more for all-inclusive care and is intended to provide a level of care that aging seniors are not able to get in the homes of their families.
Regulation of Oklahoma Nursing Homes
Nursing homes in Oklahoma are required by law to be licensed by the state. The Oklahoma Department of Health oversees them in accordance with state law and statutes as well as in recognition of federal regulations. The Nursing Home Care Act provided a significant change in how nursing homes are regulated as well as how they are run, ensuring that persons homed in such facilities had access to their rights and the freedom to exercise them without fear of reprisal from staff. All residents have access to the necessary information to file a complaint which will be immediately investigated by the appropriate authorities from the state. The nursing home care act also established protocols for routine inspections and investigation of complaints and maintains strict regulations on who can and cannot operate or administer nursing homes. Medical personnel must be board certified or licensed appropriately as well as dieticians or any persons overseeing the operations of food preparation or storage. Great care is taken to ensure the emotional and psychological well-being of nursing home residents as well as their medical needs.
Paying for Nursing Homes in Oklahoma
The cost of nursing home care is always a concern for interested seniors and their families. All licensed facilities in the state of Oklahoma are eligible for Medicare/Medicaid reimbursement. The costs vary greatly depending upon the level of care individual seniors require; whether or not they prefer a private room and which additional amenities they choose to receive. Every nursing home is different and some of them are able to offer services above and beyond basic nursing home care and many residents choose to pay for those as well.
Additional Resources for Oklahoma Nursing Homes
Seniors in Oklahoma and their families are sure to find it encouraging that Oklahoma's website includes a section that specifically addresses the concerns and needs of its senior residents. At Oklahoma.gov, families and seniors will find links and documents that will assist them in finding the answers to their questions as well as resources for health and related issues. There are licensed long term care facility directories, links to statutes and regulations regarding the same, Medicare and Medicaid information and resources, senior health insurance counseling and insurance information and much more.
Back to Top