Oklahoma Independent Living
Cost of Oklahoma Independent Living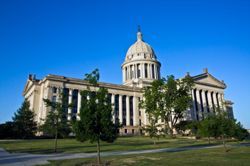 The average cost of Independent Living in Oklahoma is $1,865 per month. This is higher than the national average which is $1,729 per month.
In Oklahoma there are 71 Independent Living Communities. We can help you find the best matches for your needs.
Oklahoma Independent Living Communities by City
Oklahoma City Area Independent Living
---
Tulsa/Green Country Independent Living
---
Other Areas in Oklahoma
Map of Oklahoma Independent Living Communities
Overview of Oklahoma Independent Living
Oklahoma is the perfect state to retire in for anyone who loves the natural world. With a varied landscape consisting of prairies, forests, mountains and canyons, Oklahoma presents numerous opportunities for active retirees to go hiking, fishing, or just to enjoy the spectacular views over the plains. The cost of living in Oklahoma is lower than the average for the United States, which means that retirees are able to make the most of their pensions and savings.
Independent Living in Oklahoma Defined
Independent living facilities are not nursing homes (you can find
Nursing Homes
in Oklahoma in a separate category); residents are expected to be in generally good health and not require constant medical supervision or personal care. Seniors who need assistance with basic living tasks such as grooming, dressing or eating should consider moving instead to an
Assisted Living
community. The aim of an Oklahoma independent living facility is to make the life of a retired person easier without taking away his or her freedom or independence. This often means providing on-site services, such as dining, laundry and entertainment, while encouraging and facilitating trips to nearby towns and cities to experience all that Oklahoma has to offer.
Back to Top