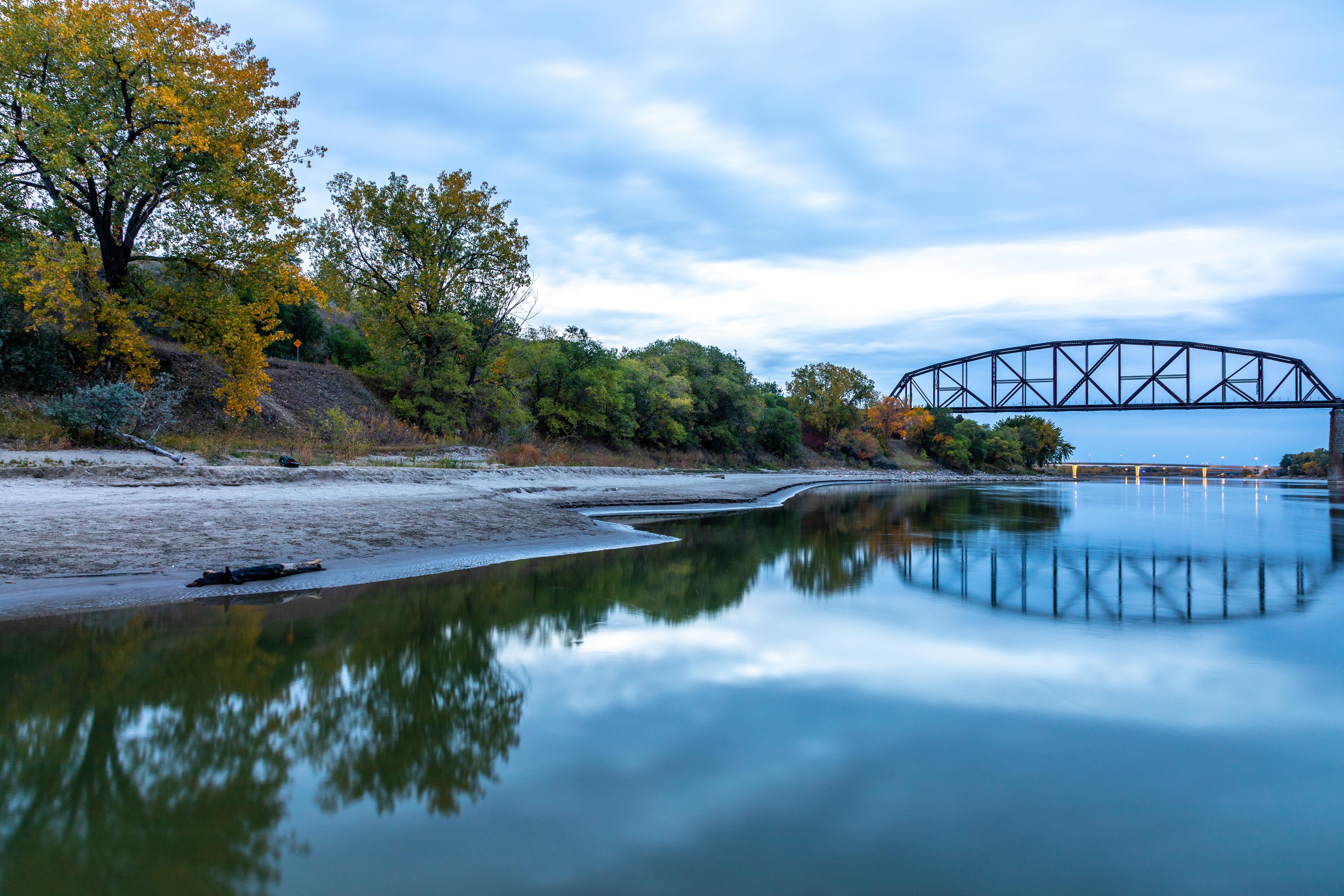 Nursing Homes in North Dakota
Complex medical problems can make it difficult for seniors to remain living at home or with family. People who need to have medical care available around the clock or need regular rehabilitative services may be safer and more comfortable in a nursing home. Also called skilled nursing facilities, these communities offer the personal care and social activities of an assisted living home. Seniors also gain access to care from nurses and medical professionals who can monitor chronic health conditions such as diabetes and heart disease and provide assistance when needed. 
North Dakota is home to 779,000 people, and 16.1% of the population is aged 65 and over. Almost 4,500 of the state's seniors live in nursing home communities. There are 5,108 nursing home beds across 77 facilities, and of these approximately 52% are funded through Medicaid. This guide has information about nursing home regulations in North Dakota and the different options available to pay for skilled nursing care.
Popular Cities in North Dakota
Cost of North Dakota Nursing Homes
The average cost of nursing homes in North Dakota is $275 per day. This is higher than the national average which is $228 per day.
Can You Use Medicaid to Pay for Nursing Home Care in North Dakota?
North Dakota Medicaid pays for nursing home care for eligible seniors who require it. This covers all costs associated with the nursing home, including room, board and the care provided. The state also has waiver programs that can provide care to people who wish to remain living at home. However, these programs have different eligibility requirements and may not be able to provide the same services as a nursing home. 
There were just over 129,000 North Dakotans enrolled in Medicaid at the end of 2022. This includes seniors, low-income adults and children enrolled in the Children's Health Insurance Program. Enrollments have increased by 84.5% since the state expanded coverage. 
Eligibility for Medicaid in North Dakota
The primary factor for Medicaid eligibility is finances. Applicants must meet the income and asset limits set by the state. These can differ depending on a person's circumstances and the type of Medicaid they're applying for. 
In North Dakota, there is no income limit for people applying for Institutional Medicaid, also known as Nursing Home Medicaid. Instead, almost all of a person's income goes toward the cost of nursing home care. The beneficiary can keep a monthly personal needs allowance of $65, the cost of Medicare premiums and, if applicable, an income allowance for a spouse who isn't in nursing home care. 
Although there aren't any income limits for applicants entering nursing homes, they must still meet the asset limits. These limits are $3,000 for single applicants and $6,000 for couples where both spouses are applying. If only one spouse is applying, the asset limit is $3,000 for the applicant and $148,620 for the nonapplicant. Not all assets are included in the Medicaid calculation. A car, personal belongings and burial contracts are exempt. A person's home is only exempt if they live there or intend to return. However, it's automatically exempt if their spouse still lives there.
| | Income Limits* | Asset Limits |
| --- | --- | --- |
| Single Person | No set limit | $3,000 |
| Two-Person Household | No set limit | $6,000 |
*Per year
Seniors must also meet other eligibility criteria to receive Medicaid. Applicants must be:
Aged 65 or older
A resident of North Dakota
A U.S. citizen, permanent resident or legal alien
Assessed as needing a nursing home level of care
Applying for Medicaid in North Dakota
North Dakota allows people to apply for Medicaid through an online form, manually or via mail. The Economic Assistance and Medicaid Self-Service Portal processes applications for Medicaid and other benefits in the state. 
For people who prefer to apply manually, the application form can be found on the department's website or requested by calling a local human service zone office. Once completed, it can be returned to the human service zone office or to the department using one of the following methods:
Fax: (701) 328-1006
Email: applyforhelp@nd.gov
Mail: Department of Health and Human Services
Customer Support Center
P.O. Box 5562
Bismarck, ND 58506
What Information You Will Need 
The local human service zone office receives and processes applications. To speed up processing, applicants can include the following documents:
Proof of alien or citizenship status
Proof of the value of current assets
Proof of expenses, including health insurance premiums
Proof of income
Proof of identity and age
Social Security Number
Additional Medicaid Support & Resources in North Dakota
North Dakota has several resources that help people with Medicaid. The programs below can answer common questions about programs and provide personalized support to understand Medicaid and apply for benefits.
| | Contact | Service |
| --- | --- | --- |
| Human Service Zone Offices | (701) 328-2310 | Human service zone offices are located throughout the state. They can help seniors apply for a variety of supports, including Medicaid. Team members may also be able to help seniors find the documents they need to support their application. |
| North Dakota Navigator | (800) 233-1737 | North Dakota Navigator has trained counselors who offer help with both private health insurance and Medicaid. The team can explain terms, break down enrollment barriers and help people apply for programs. |
| Application for Assistance Guidebook | (701) 328-2310 | The Application for Assistance Guidebook is a comprehensive guide to the services available for low-income seniors in the state. It has a section about Medicaid that answers common questions on eligibility, applications and rules of the program. |
Can You Use Medicare to Pay for Nursing Home Care in North Dakota?
Medicare provides limited coverage for short-term stays in a skilled nursing facility following a hospital stay, but seniors must meet a number of specific requirements. This benefit is available to beneficiaries who have been hospitalized for at least three days, excluding the date of discharge, so it's most valuable for those who are recovering from an injury, illness, or surgery.
Once seniors meet the hospitalization requirement, Medicare will pay for up to 100 days of skilled nursing per benefit period. The first 20 days are covered in full. Starting on day 21, beneficiaries must pay a daily coinsurance rate. After day 100, seniors are responsible for the entire cost.
What Does Medicare Cover?
Medicare covers a number of specific services, including:
Meals
A semiprivate room
Medications
Skilled nursing
Physical therapy
Occupational therapy
Speech therapy
Audiologist care
Medical supplies
Medical social services
Nutritional counseling
Ambulance transportation
What Isn't Covered by Medicare?
Medicare does not cover long-term custodial care that addresses seniors' day-to-day needs. This includes help with daily activities, such as bathing, dressing and using medical equipment.
For more information about Medicare and when it covers Nursing Home Care, read our Guide to Nursing Homes.
Medicare Support & Resources in North Dakota
While Medicare doesn't cover long-term care in a skilled nursing facility, it can help people fund an initial stay in some circumstances. The organizations below have volunteers and staff available to help seniors understand Medicare, choose plans and get the most from their coverage.
| | Contact | Service |
| --- | --- | --- |
| North Dakota State Health Insurance Assistance Program (SHIP) | (888) 575-6611 | SHIP has trained and unbiased counselors available to help seniors navigate Medicare. It can help with finding the right coverage option, making claims and appealing decisions. Team members can also help seniors understand long-term care insurance. |
| Legal Services of North Dakota | (866) 621-9886 | Legal Services of North Dakota is a nonprofit organization that provides civil legal assistance to low-income and older residents of the state. It has online educational materials about Medicare and can also provide individual advice. |
| North Dakota Aging and Disability Resource Link (ADRL) | (855) 462-5465 | The ADRL provides free and confidential information about services available in North Dakota. The website has an extensive database of resources to search. ADRL can also provide more individualized help and connect people with insurance counselors. |
Other Financial Assistance Options for Nursing Home Care in North Dakota
While Medicaid and Medicare are two of the most common programs used to pay for Nursing Home Care, there are other financial assistance options available, depending on your unique situation.
| | How to Apply | How It Works |
| --- | --- | --- |
| Aid and Attendance | Learn more and apply online at va.gov. | Veterans who receive a VA pension may also be eligible for the Aid and Attendance benefit, a monthly cash allowance that veterans receive in addition to their standard pension amount. The benefit is intended for veterans in need of long-term care services and may be used towards paying for skilled nursing care. |
| Reverse Mortgages | Learn more about your options and how to apply at ftc.gov. | If you own a home, you may be able to use a reverse mortgage to help pay for nursing care. Reverse mortgages are loans that one can take out against the value of their home, essentially converting some of the home's equity into cash. This type of funding can be especially useful for married couples when only one partner needs nursing care, as the other residents of the home may continue living there. Reverse mortgage loans do need to be repaid with interest, typically within 12 months of receiving the loan. |
| Long-Term Care (LTC) Insurance | Learn more about Long-Term Care Insurance and how to apply for a policy at acl.gov. | Seniors who already have long-term care insurance may be covered for skilled nursing care. Most policies cover at least a portion of the cost of nursing home care, but it depends on the specific policy terms. Note that older adults who are already in need of skilled nursing care will not be eligible to sign up for a LTC insurance policy. |
Nursing Home Laws and Regulations in North Dakota
| | |
| --- | --- |
| Licensing Requirements | Skilled nursing facilities in North Dakota are licensed by the Health Facilities Unit, which is a division of the Department of Health and Human Services. Licenses must be renewed annually. |
| Staffing Requirements | Nursing homes must have enough qualified nursing personnel on duty to meet the needs of the residents, including at least one registered nurse on duty each day. The facility must also have a medical director who is responsible for the quality of residents' medical care. |
| Staff Training Requirements | All facilities must have a licensed nursing home administrator to manage the facility, and staff must be properly trained and licensed. Ongoing training must be carried out annually, covering emergency procedures, infection control, resident rights, advance directives and care of emotionally disturbed residents. |
| Admission Restrictions | Facilities can't admit a person if they're not able to meet their needs. Admission is only possible if the resident has an order from a licensed health care practitioner. |
| Care Planning Requirements | Staff must coordinate with the resident or their legal representative to develop a care plan. This must be consistent with the individual's needs and their physician's medical care plan. It must be revised every 90 days. |
| Dietary and Nutritional Services Requirements | A qualified director of dietary services must be responsible for residents' nutrition. Facilities must serve three meals and a snack each day that meet the nutritional needs of residents. Therapeutic diets must be catered to, and resident requests should be accommodated when possible. |
| Specialized Rehabilitative Services | At a minimum, facilities must provide physical, speech and occupational therapy, as well as health services for mental illness and intellectual disability. These services must be provided by order of a licensed health care practitioner. Facilities can hire someone directly or contract with outside services. |
| Medication and Pharmaceutical Services | Any medications administered to a resident must be prescribed by a licensed health care practitioner. Facilities must hire a licensed pharmacist who reviews each resident's medications monthly. Medications can only be administered by authorized people who must record each dose given. |
| Activities Requirements | Facilities must offer activities that meet the needs and interests of each resident. A qualified activity coordinator is responsible, and there must be sufficient staff, equipment and material to support these activities. Requests to see clergy must be honored and privacy provided for these visits. |
| Infection Control Requirements | Facilities must implement a program for the surveillance, prevention and control of infections. It must be consistent with CDC standards and include policies for reporting, logging, monitoring and documenting infections. |
| Medicaid Coverage | Medicaid in North Dakota covers the cost of nursing home care for seniors who meet the eligibility criteria. There are also waiver programs that can cover some services for people who need a high level of care but wish to remain living in the community. |
Find Communities
Senior Homes has an extensive directory of senior living options, with care and living providers across the United States. 
Nursing Homes Articles and Resources
Top Cities in North Dakota
Top Counties in North Dakota
Compare Costs, Photos, & Reviews of All Your Options Near North Dakota
By clicking "Get Costs" I am providing express written consent to receive calls including automated/pre-recorded calls and automated texts for which I may incur a cost, as well as emails from Caring and its partners. I understand I am not obligated to provide this consent to utilize Caring's service(s). I acknowledge I was able to review the Agreement to be Contacted, Terms of Use, and Privacy Policy.