Independent Living
Assisted Living
Memory Care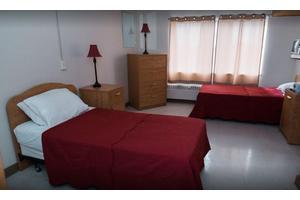 Description of Mary Agnes Manor
About Mary Agnes Manor
Mary Agnes Manor is located in the heart of Erie County, and our assisted living facility offers a beautiful view of both Lake Erie and Downtown Buffalo. Residents at Mary Agnes Manor will enjoy living walking distance to a number of stores, parks, as well as the Niagara Branch Public Library. Residents can also partake in many of our popular group activities while living with us. And because of our proximity to their campus, we offer the ability for interested residents to take classes at D'Youville College. We even have an ice cream parlor right on site! We want your loved one to be as comfortable as possible while they're under our care and aging in place.
Our Assisted Living Home Program
At Mary Agnes Manor, we offer a number of benefits to to those who are enrolled in our assisted living home program.
The Director of Patient Services is a Registered Nurse (RN).
There is a full range of nursing support for residents (RN and LPN)
Affordable and private rooms, with individual bathrooms.
Case Manager support is available.
Individual Service Plans (ISP's) are available, to create an environment of preventative and supportive care, ensuring the longest and safest stay.
Home Health Aides (HHA's/PCA's) can provide supportive care consistent with their care matrix and comprehensive training.
Fully integrated emergency call bell system.
Fully-sprinklered fire emergency systems with multiple sprinkler heads in every room.
When the decision is made to place an elderly loved one into a memory or dementia care program, you certainly want to be sure they'll be receiving the best possible standard of care. Mary Agnes Manor is proud to provide comprehensive specialized care for those with Alzheimer's, dementia, and other forms of memory disorders. Our Special Needs Assisted Living Residence (SNALR) is one of the longest running and most highly regarded units in the Western New York area.
Our Memory Care Program
Established in 1998, our CARE units have provided a secured environment with supportive therapeutic activities to those afflicted with Alzheimer's or other types of memory impairments. Everything from the calming decor to the additional training provided in the areas of re-direction and behavior management has been analyzed over the years to help provide a stable and comfortable environment. We offer both individual and group sensory programs for residents in our memory care program, Validation Therapy for a more holistic approach to treating memory disorders, and all instructed by our Alzheimer's certified staff. Our on-site designated activities professional works to create exciting new programs and activities for residents and the doors to our facility are always secured.
At Mary Agnes Manor's assisted living home, you don't have to worry about the level of care your elderly loved one is being given. We'll treat them like family, and we'll do our best to make them feel right at home.
Mary Agnes Manor Amenities
Photos of Mary Agnes Manor
Tour Mary Agnes Manor
The best way to get to know a community is by scheduling a tour. See the facilities, meet the staff and residents, and get a feel firsthand what it's like to live at Mary Agnes Manor.
Costs at Mary Agnes Manor
Assisted Living
This level of care provides support for those who need help with personal care needs such as cleaning, bathing, and dressing. Residents selecting this level of care are treated to many amenities in a home-like atmosphere, while getting support in their daily lives.
Reviews of Mary Agnes Manor