New Hampshire Nursing Homes
Cost of New Hampshire Nursing Homes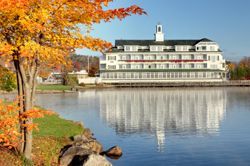 The average cost of Nursing Homes in New Hampshire is $316 per day. This is higher than the national average which is $228 per day.
In New Hampshire there are 89 Nursing Homes. We can help you find the best matches for your needs.
New Hampshire Nursing Homes by City
Other Areas in New Hampshire
Map of New Hampshire Nursing Homes
Overview of New Hampshire Nursing Homes
Individuals residing in a nursing home in New Hampshire can enjoy a wide range of different activities. The state is full of activities to match any interest. During the summer, they can visit the small towns nestled in the White Mountains to spend the day, or the weekend, shopping, eating and admiring the beautiful purple lupines that spring up in many fields. A March visit to a sugar shack located in the state will allow seniors to observe the making maple syrup while engaging the owners in conversation about the process. Medical care is an important consideration for any person. This is particularly true for those individuals who live in a New Hampshire nursing home as they often need specialized care. New Hampshire boasts a number of top hospitals located in the state. Dartmouth-Hitchcock Medical Center, located in Lebanon, is a teaching hospital. It specializes in several areas that will likely be of interest to seniors including urology, rheumatology, orthopedics, geriatrics and gastroenterology. Wentworth-Douglas Hospital in Dover offers specialties in pulmonology and gastroenterolgoy while Concord Hospital, located in Concord, is ranked highly in the area of orthopedics.
Nursing Homes in New Hampshire Defined
Nursing homes in New Hampshire offer skilled and intermediate nursing services in a residential facility. These services are designed to offer support for daily activities and rehabilitation to its residents. Nursing services are available around-the-clock at nursing homes. Each nursing home is required to have qualified staff to attend to the needs of its residents. This staff includes the administrator, registered nurses, certified nursing assistants, director of nursing and licensed practical nurses.  
Regulation for New Hampshire Nursing Homes
Licensing for New Hampshire nursing homes is provided by the state's Bureau of Health Facilities Administration. If the nursing home is Medicaid certified because it receives funding from Medicaid, it must comply with both federal and state regulations. Each year, the nursing home is inspected by a federal and state agency at least once. During a typical inspection, several aspects of nursing home life are observed. These might include meal preparation as well as the actual meal time itself, personal care tasks and the administering of medication. In addition, the representative of the agency will usually speak with a few of the residents and get their input on how operations at the nursing home are handled and what could be improved. A successful inspection earns certification and licensure for another year.
Paying for Nursing Homes in New Hampshire
This cost includes room and board, 24-hour nursing care, meals and some activities and can vary widely depending on where in the state the nursing home is located. The cost of any other medical treatments deemed necessary by an individual's physician and are not included in the daily cost of care. They are billed separately. There are a variety of ways a senior can pay for their stay in a nursing home in New Hampshire. Some seniors can tap into long term insurance policies purchased just for this reason. Other individuals are able to pay for their care out of pocket after selling their assets. Medicare pays for stays in a nursing home only under limited circumstances and on a temporary basis. Medicaid is reserved for those residents who are not able to afford care on their own.
Back to Top