New Hampshire Independent Living
Cost of New Hampshire Independent Living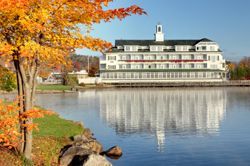 The average cost of Independent Living in New Hampshire is $3,537 per month. This is higher than the national average which is $1,729 per month.
In New Hampshire there are 16 Independent Living Communities. We can help you find the best matches for your needs.
New Hampshire Independent Living Communities by City
Other Areas in New Hampshire
Map of New Hampshire Independent Living Communities
Overview of New Hampshire Independent Living
Almost one quarter of New Hampshire's population is made up of seniors over the age of 55. There are numerous New Hampshire independent living communities to choose from all throughout the state, making it one of the nation's top locations for retirement. Attractions include the American Independence Museum, Conway Scenic Railroad and the beautiful Mount Washington as well as many golf courses, theaters and shopping. Watch the beautiful change of seasons and enjoy inviting friends and families to visit, with proximity to the beach and top ski resorts there is never a shortage of exciting activities for everyone. New Hampshire's rich history, culture and natural beauty make it an ideal location for many retirees.
Independent Living in New Hampshire Defined
Independent in New Hampshire usually offers retirees either apartment or cottage accommodations that are free having to worry of maintenance costs and other fees. For a monthly rate, communities generally offer housing, meal services and housekeeping. Communities can provide access to social activities and transportation to local attractions or other appointments. Independent living is a great option for seniors who have good physical health and are not in need of 24-hour medical support. Other retirees who need some additional assistance with life's daily activities should consider New Hampshire's
Assisted Living
and
Nursing Home
options, which provide the same great services with more support with things like medication management, dressing and mobility.
Back to Top