Missouri Nursing Homes
Cost of Missouri Nursing Homes
The average cost of Nursing Homes in Missouri is $153 per day. This is lower than the national average which is $228 per day.
In Missouri there are 559 Nursing Homes. We can help you find the best matches for your needs.
Missouri Nursing Homes by City
Greater St Louis Nursing Homes
---
Kansas City Metropolitan Area Nursing Homes
---
Other Areas in Missouri
Map of Missouri Nursing Homes
Overview of Missouri Nursing Homes
For seniors living in Missouri nursing homes, the state offers them a great deal to do in terms of activities. Many of these are designed to keep their minds engaged and their bodies active at a rate at which they feel comfortable. This largely rural state is known as the Gateway to the West. It features the Gateway Arch, a historic site that draws visitors from around the world. Relax in one of the little towns, do some shopping and sightseeing and enjoy a slower pace of life. Quality medical care is a top priority for many people. This is true for seniors residing in nursing homes in Missouri. Barnes-Jewish Hospital/Washington University is a teaching hospital located in the Saint Louis metro area. They have been ranked highly in 15 adult specialties including diabetes and endocrinology, cancer, pulmonology, rheumatology, geriatrics and cardiology and heart surgery. Other top ranked hospitals in Missouri include Missouri Baptist Medical Center in Saint Louis, University of Missouri Health Care in Columbia and North Kansas City Hospital in North Kansas City.
Nursing Homes in Missouri Defined
According to the state, nursing homes in Missouri are reserved for those people who are not able to care for themselves properly and who have a diagnosed physical or mental condition that needs nursing care around the clock. Skilled care nursing is available for those seniors who need help managing their medical conditions and personal care on a daily basis. Intermediate care is offered to those seniors who need help on a less intensive basis but still must have medical care available 24 hours a day. In many instances, this type of care is too intensive to allow family members to care for the senior in their home. An assisted living home could be an option if the senior is able to care for themselves on a daily basis and only needs help with a few tasks.
Regulation of Missouri Nursing Homes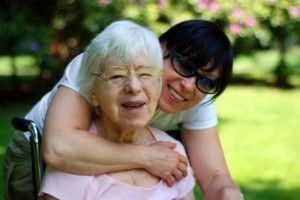 In this state, the Missouri Department of Health and Senior Services is the entity responsible for ensuring that each Missouri nursing home is licensed in the proper manner. This is accomplished by inspecting each nursing home on a regular basis. If the nursing home also receives funding from the federal programs of Medicaid or Medicare, federal agencies will also inspect it. These inspections involve speaking with residents, observing operations and checking paperwork and records. To be licensed to work as a nursing assistant there are strict guidelines to ensure nurses are current in experience working within the last two years.
Paying for Nursing Homes in Missouri
These figures are simply an average and it could be higher in the case of a metro area in which the demand for such care could outstrip supply. In addition, these costs could be lower as well, as is often the case, in more rural areas of the state. Many seniors use their savings to pay for their stay in a nursing home in Missouri. Once their savings have been depleted, many of them then qualify for Medicaid. Many of these nursing homes in the state accept Medicaid so a move is usually not necessary when this government program begins to pay for services.
Back to Top