Florida Memory Care
Cost of Florida Memory Care
The average cost of Memory Care in Florida is $3,817 per month. This is higher than the national average which is $2,958 per month.
In Florida there are 436 Memory Care Communities. We can help you find the best matches for your needs.
Florida Memory Care Communities by City
Miami Metropolitan Area Memory Care
---
Tampa Bay Area Memory Care
---
Greater Orlando Memory Care
---
Greater Jacksonville Memory Care
---
Other Areas in Florida
Map of Florida Memory Care Communities
Overview of Florida Memory Care
Florida's
Alzheimer's Disease Initiative
plays a direct role in helping families meet the ever-changing needs of seniors affected by these disorders. There are 15 dedicated memory disorder clinics that provide comprehensive services to those exhibiting Alzheimer's disease and other memory disorders. Out of the 15 recommended clinics, at least 13 receive state funding for their services. The
Florida Department of Elder Affairs
offers a wide range of additional resources to help families attend to the needs of Florida memory care patients.
Memory Care in Florida Defined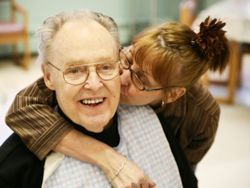 Memory care provides those suffering from Alzheimer's disease, dementia and other memory-related disorders with specialized care and treatment. Florida memory care facilities provide affected seniors with personal assistance for a variety of daily activities, including bathing, grooming, eating and medication. Residents are housed in a stand-alone facility or within a specialized wing of an existing assisted living community, where constant, compassionate care is delivered in a warm and respectful manner. These facilities also offer 24-hour supervision to prevent patients from accidentally wandering away from the facility, as well as to provide a limited amount of medical and emergency care.
Back to Top