Connecticut Nursing Homes
Cost of Connecticut Nursing Homes
The average cost of Nursing Homes in Connecticut is $400 per day. This is higher than the national average which is $228 per day.
In Connecticut there are 239 Nursing Homes. We can help you find the best matches for your needs.
Connecticut Nursing Homes by City
Greater Hartford Nursing Homes
---
Fairfield County Nursing Homes
---
Other Areas in Connecticut
Map of Connecticut Nursing Homes
Overview of Connecticut Nursing Homes
The decision to move a beloved elder into a nursing home is never an easy one, but armed with a little knowledge the process can be a smoother one. Fortunately, Connecticut nursing homes have a strong reputation. 48 Connecticut nursing homes have made it onto the 5 star list of 'Best Nursing Homes' in a US News review, a rating system that looked at performance in health inspections, nurse staffing and medical care. There are many solid options to choose from once the decision has been made to make this transition.  
Nursing Homes in Connecticut Defined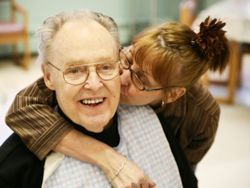 Connecticut nursing homes have two basic distinctions. The first are known as "residential care homes" by the state, which defines them as an licensed institution with facilities to provide all food, shelter and laundry services while also providing trained personnel capable of assisting with bathing, dressing, meal preparation and supervision of self-administered medication and, in some cases, administration of medicine where it is allowed by state law. These homes are required to provide trained and licensed medical supervision when a resident requires it, but do not have a nurse on staff full time. Residents who require more constant medical attention would seek what the state calls a "chronic and convalescent nursing home." These facilities have a dedicated nursing staff, but are otherwise held to the same standards as a residential care home. It is important to understand that nursing homes differ from other types of senior care. A nursing home will have persistent staff with training suitable to the environment. Modern day Connecticut nursing homes are designed to be pleasant places of residence, but they provide a higher level of medical support to their residents. Assisted living facilities are similar in nature, but each resident receives less attention and the staff is not there to provide fully supportive medical care. For someone with complicated medical needs, assisted living is not the best option. A third option for patients who require less direct assistance is home health care. With home health care, a trained caretaker can assist with basic daily needs such as bathing, dressing, meal planning and preparation, and light household duties. These individuals are not licensed, however, and cannot provide much in the way of medical support.
Regulation of Nursing Homes in Connecticut
A Connecticut nursing home is bound to certain standards by state regulations. In addition to requiring the proprietor to be licensed and submit every other year records of sound physical and mental health, records are kept on all staff members and all staff members receive training designed to help them provide the best care to residents. Training hours are mandated up to 12 hours per year and cover topics such as resident rights, behavioral management, personal care, nutrition and food safety, and general health and safety. The facilities themselves are held to stringent cleanliness standards and are expected to provide a safe, secure and pleasant environment for residents. Resident bedrooms are of a reasonable size and are required to have basic amenities like a comfortable chair and access to bathing and toilet facilities. The building itself must provide recreational space both indoors and out, sitting rooms for residents, proper dining facilities, emergency power systems and other features designed to ensure resident safety and comfort. Temperature is regulated to a comfortable level, year round.
Paying for Nursing Homes in Connecticut
The cost of care is of obvious concern to most families. While the cost of care can be daunting, many homes can point you towards programs that can help defray the costs and nothing can replace the peace of mind that comes from knowing that your cherished elder will have the care they require in an emergency.
Back to Top