Connecticut Memory Care
Cost of Connecticut Memory Care
The average cost of Memory Care in Connecticut is $5,344 per month. This is higher than the national average which is $2,958 per month.
In Connecticut there are 65 Memory Care Communities. We can help you find the best matches for your needs.
Connecticut Memory Care Communities by City
Greater Hartford Memory Care
---
Fairfield County Memory Care
---
Other Areas in Connecticut
Map of Connecticut Memory Care Communities
Overview of Connecticut Memory Care
With roughly 70,000 residents age 65 and older living with Alzheimer's Disease, the need for quality memory care in Connecticut has never been greater.* Fortunately, the state has several local resources to help seniors and their families cope with the challenges of memory loss. The
Connecticut Statewide Respite Care Program
was formed through the partnership between the
Alzheimer's Association Connecticut Chapter
, the
Area Agencies on Aging
and the
State of Connecticut Department of Social Services, Aging Services Division
. Targeted to low-income seniors who meet certain eligibility requirements, the Program provides caretaking relief to family caregivers through the delivery of professional memory care services.  
*Alzheimer's Association. 2012 Alzheimer's disease facts and figures. Alzheimer's and Dementia: The Journal of the Alzheimer's Association. March 2012; 8:131–168.
Memory Care in Connecticut Defined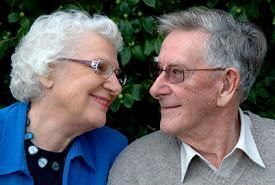 While some Connecticut memory care facilities are home only to residents with memory loss, memory care services can be provided in a variety of environments. During the early stages of Alzheimer's Disease or dementia, in-home care or visits to an adult day care center may provide enough supervision during the day to keep seniors safe and occupied while a family caregiver is at work or school. As the disease progresses and the senior requires more help with life's daily activities, such as dressing, cooking or handling medications, a residential assisted living or memory care community becomes more appropriate. For seniors in the late stages of Alzheimer's who may have lost physical abilities and/or are challenged by additional medical conditions, a nursing home can provide around-the-clock skilled nursing care from trained medical personnel.
Back to Top