Continuing Care Communities
Nursing Homes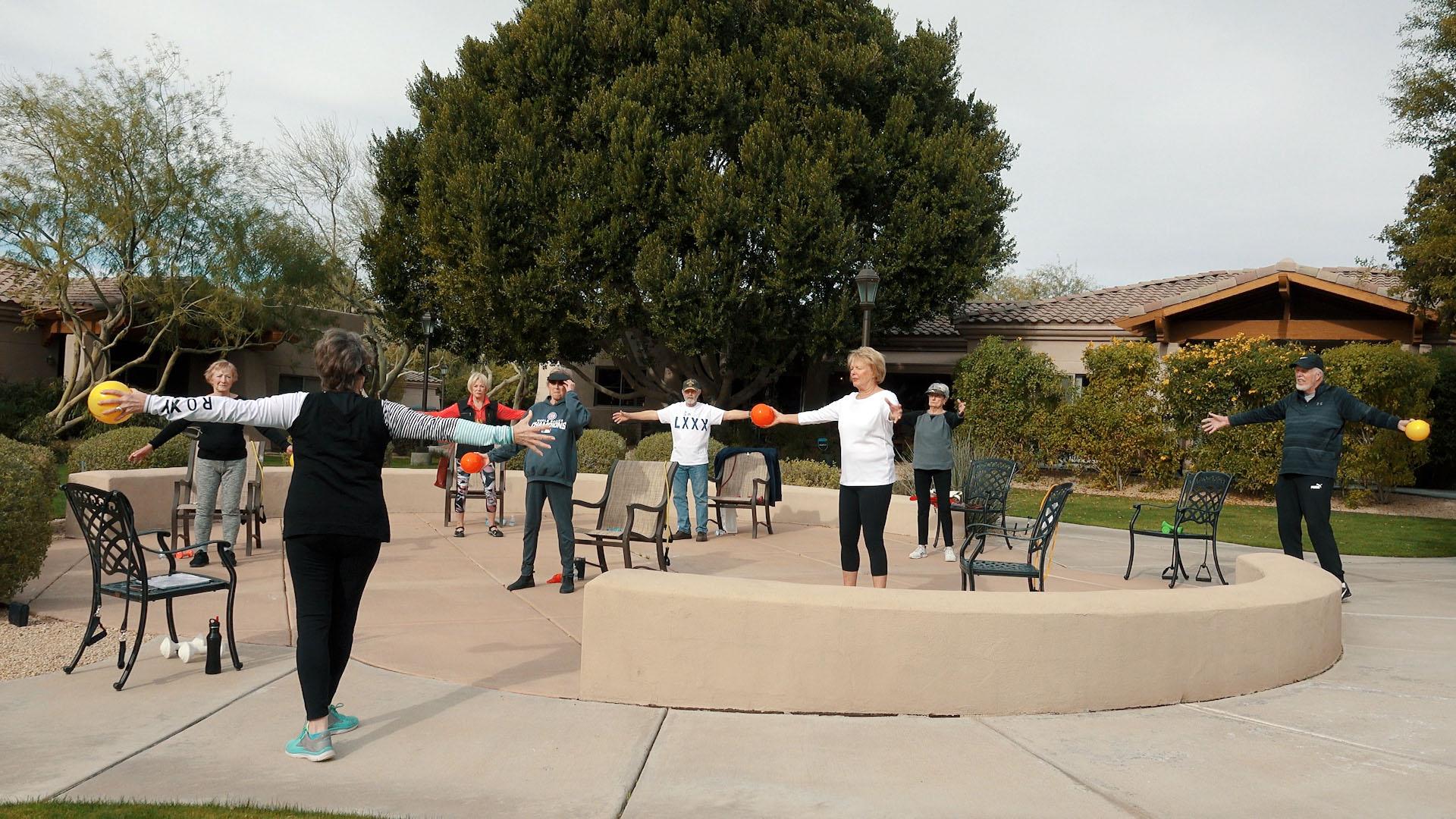 Description of Vi at Grayhawk
Vi at Grayhawk is a Life Plan Community, also known as Continuing Care Retirement Community (CCRC), located in Scottsdale, Arizona. Overlooking the magnificent McDowell Mountains, Vi at Grayhawk offers easy access to the master-planned community's amenities as well as a wide variety of features and services. Our retirement community provides exceptional amenities, social programs and a distinctive variety of activities to enjoy. Vi at Grayhawk has it all to deliver an enriched senior living like no other.
Some of the unique benefits you can expect with Vi at Grayhawk include and are not limited to:
Dedicated staff from our chefs, nursing, housekeeping, front desk, and more
On site Assisted living, Memory Support, and Skilled Nursing facilities
Scheduled maintenance and repairs for your home
Weekly light housekeeping and bed linen services
Seasonal menus and nightly specials prepared daily
Casual, bistro style, and fine dining restaurants available with table service
Valet parking services
Scheduled transportation for shopping, outings and appointments
Front desk staffed 24 hours a day to welcome residents, register guests and accept deliveries
Fitness equipment including treadmills, rowing machines, recumbent bicycles, NuStep® cross training machines, air-resistance weight machines, and free weights for strength training and cardio fitness
Fitness instruction and classes including yoga, tai chi and weight training
Heated, salt-filtered indoor and outdoor pools
Instructor-led aqua fitness classes and relaxation
18-hole championship putting course
Reading areas and computer resource center
Pets allowed (up to 35 lbs.)
With proximity to Scottsdale and Phoenix, Vi at Grayhawk has much to offer inside and outside the community. Visit the surrounding area, such as the Desert Botanical Garden or the Phoenix Art Museum, enjoy the culture and music of the Phoenix and Orpheum Theater, visit the diverse species that the Phoenix Zoo has to offer, test your golfing skills at 3 nearby championship courses, and much more.
At Vi at Grayhawk, we offer best-in-class living environments, well-appointed amenities and unexpected levels of service.
How it works
At Vi at Grayhawk offers two different pricing options, depending on the percentage of return. Your entrance fee and monthly fee pay for your apartment home, as well as access to our onsite continuum of care. The entrance fee is a one-time fee paid when you move into the community, and is based on the floor plan and return option you choose. Additionally, your monthly fees - which are directly tied to the floor plan you choose - also cover a range of services including: maintenance of your home, housekeeping, dining, transportation, and more. Should you move or need to access the care center, your independent living monthly fees will not increase, aside from community wide increases, the cost of additional meals and ancillary items as needed.
About Vi
For more than 30 years, Vi has been enriching the lives of seniors. The Vi family of companies includes 10 Life Plan Communities, also known as Continuing Care Retirement Communities (CCRCs), across the United States. Since 1987, Vi has owned and operated residential communities for older adults, we work toward providing quality environments, services and programs to enrich the lives of those we serve.
Photos of Vi at Grayhawk
Tour Vi at Grayhawk
The best way to get to know a community is by scheduling a tour. See the facilities, meet the staff and residents, and get a feel firsthand what it's like to live at Vi at Grayhawk .
Costs at Vi at Grayhawk
Continuing Care Communities
Continuing care retirement communities (CCRCs) are multi-level care facilities that combine residential accommodations with health services for older adults. The goal of a CCRC is to allow residents to receive the appropriate level of care across a continuum, from independent living to assisted living to skilled nursing care, as their health status changes and without having to move out of the retirement community.
Nursing Homes
Nursing homes, also called skilled nursing facilities or convalescent homes, serve anyone who requires preventive, therapeutic and/or rehabilitative nursing care. Nursing homes provide residential care for people who don't require hospitalization but need 24-hour care they can't get at home. Some nursing homes are set up like a hospital with staff members providing medical care. Nursing homes also provide a wide range of other services.
Reviews of Vi at Grayhawk
Nearby Senior Communities
Expand your provider search by geography and care type.