Virginia Nursing Homes
Cost of Virginia Nursing Homes
The average cost of Nursing Homes in Virginia is $221 per day. This is lower than the national average which is $228 per day.
In Virginia there are 325 Nursing Homes. We can help you find the best matches for your needs.
Virginia Nursing Homes by City
Washington Metropolitan Area Nursing Homes
---
Virginia Beach-Norfolk / Hampton Roads Nursing Homes
---
Greater Richmond Region Nursing Homes
---
Other Areas in Virginia
Map of Virginia Nursing Homes
Overview of Virginia Nursing Homes
Virginia is known nationwide for its beauty, natural resources and rich cultural history. Less well known is the state's dedication to the elder citizens in its community and the efforts the community government makes towards making sure they and their families have the resources they need for their golden years. Virginia's Division for the Aging covers a wide range of services and resources for senior citizens and their families. Virginia nursing homes and hospitals are some of the best in the nation, including hospitals that rank among the top 20% in the U.S, such as the Virginia Hospital Center located in Arlington.
Nursing Homes of Virginia Defined
Seniors and their children often find researching nursing homes and long-term care facilities overwhelming and confusing. During this emotional journey it is important to have the right information so as to make the best possible choices for loved ones in need of care. Nursing home candidates are aging persons who are no longer able to care for themselves and require a level of round the clock care that cannot feasibly be offered at home. Nursing homes are dedicated facilities staffed by board certified physicians, registered nurses, licensed dieticians and other, non-medical personnel. The focus in a nursing home is on the total well-being and dignity of residents rather than only their physical health. A nursing home in Virginia is an environment where an elder citizen can expect to be treated with dignity and respect while having their physical and emotional needs met.
Regulation of Virginia Nursing Homes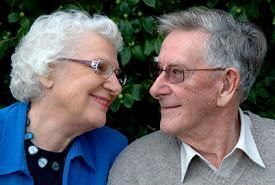 The Virginia Department of Health (DOH) has the responsibility of monitoring and regulating nursing facilities in the state. A visit to Virginia's DOH website immediately reveals the seriousness with which they take this responsibility. There are over 279 nursing homes in the state with more than 30,000 beds. State law requires that all nursing homes be licensed to operate legally. Nursing homes are inspected both by the state via the DOH and by CMS (Centers for Medicare and Medicaid Services). The DOH inspects each facility every two years and investigates complaints about regulation violations as they occur. CMS conducts unannounced visits to nursing facilities on a yearly basis. In addition, nursing homes that also qualify as Intermediate Care Facilities for the Mentally Retarded (ICF/MRs) are surveyed by The Office of Licensure and Certification in accordance with state licensure requirements. In response to community outcry over the past several years, many states are implementing what is called a "culture change" to nursing home and other long-term elder-care facility environments. In an effort to provide care environments that respect seniors' autonomy and dignity, CMS developed what is called the "Return to Community Referral" evaluation. This evaluation is intended to assist residents interested in returning to their communities the resources and help needed in order to do so.
Paying for Nursing Homes in Virginia
Nursing home cost is one of the many crucial concerns that seniors and their families have when considering long term care options. The costs vary depending upon the services that a resident needs or prefers along with the location and size of the facility and whether or not the resident is living in a private or semi-private room. Out of the 279 licensed facilities, all but 15 are eligible for federal reimbursement under Medicare or Medicaid.
Back to Top