Sundowning and Dementia: A Guide
Reviewed By: Dr. Brindusa Vanta, MD
When a loved one is diagnosed with dementia, it can be difficult to know how to help them. They may become forgetful and confused or experience unfamiliar personality and behavior changes that can worsen over time, resulting in needing assistance with everyday tasks. If you notice that your loved one's confusion or restlessness seems to increase around nightfall, this may indicate they're affected by sundowning. 
According to the Alzheimer's Association, as many as 20% of individuals diagnosed with Alzheimer's or dementia are impacted by sundowning. This behavior change isn't a disease, but a set of symptoms that occur at a specific time of day. Watching your loved one undergo these changes can be stressful, but understanding how to spot signs of sundowning can help you keep them safe. 
This guide provides a comprehensive overview of what sundowning is as well as its symptoms and potential causes. You can also explore tips and resources that offer guidance on how to care for someone struggling with sundowning and dementia. 
What Is Sundowning in Dementia?
Sundowning refers to a state of confusion that may begin in the late afternoon and last through the night. During this time, your loved one may become increasingly agitated, distressed, confused or disoriented and start pacing or wandering. They also may experience sleeping issues due to their restless behavior.
Sundowning can occur in people with Alzheimer's or forms of dementia. Episodes usually start around the same time of day and last for a few hours. Most people revert back to their normal selves once the episode is over. 
At What Stage of Dementia Does Sundowning Start?
Although sundowning can happen at any stage of dementia, it's most common during the middle or later stages. The middle stage of Alzheimer's can last for many years and cause brain changes that make it difficult for people to perform routine tasks or express their thoughts. Disorientation can also become more severe, causing confusion about the time of day. 
During the later stages of dementia, your loved one may require intensive, 24-hour care. They will most likely need full-time assistance with personal care tasks and have a hard time expressing their needs. Their anxiety, depression or fear may worsen, which can cause symptoms of sundowning. 
Is Sundowning Without Dementia Possible?
As people age, the brain can shrink in volume, particularly in the frontal cortex, impacting memory. A shrunken brain can also affect intellect and judgment, making it difficult to cope with the stress of performing daily activities. Some seniors may exhibit symptoms of sundowning from these brain changes, even if they don't show signs of Alzheimer's or dementia. 
What Can Cause Sundowning?
The exact cause of sundowning isn't fully known. One theory suggests that it's triggered by a disruption in a person's circadian rhythm. Circadian rhythms are responsible for the sleep-wake cycle. When this process is disrupted, a person may become confused or frustrated, resulting in sundowning behaviors. 
Contributing Factors of Sundowning
There are several other factors that may contribute to sundowning, including:
Reduced lighting and increased shadows that may cause fear or confusion
Mental or physical exhaustion from being in an unfamiliar or confusing environment
Overstimulation from a noisy or busy environment
Sensory deprivation, such as not having enough exposure to sunlight
Mood disorders, including depression or anxiety
Decreased sense of safety or security
Hunger or dehydration
Underlying health issues, including pain, discomfort or infection
Increased stress levels or boredom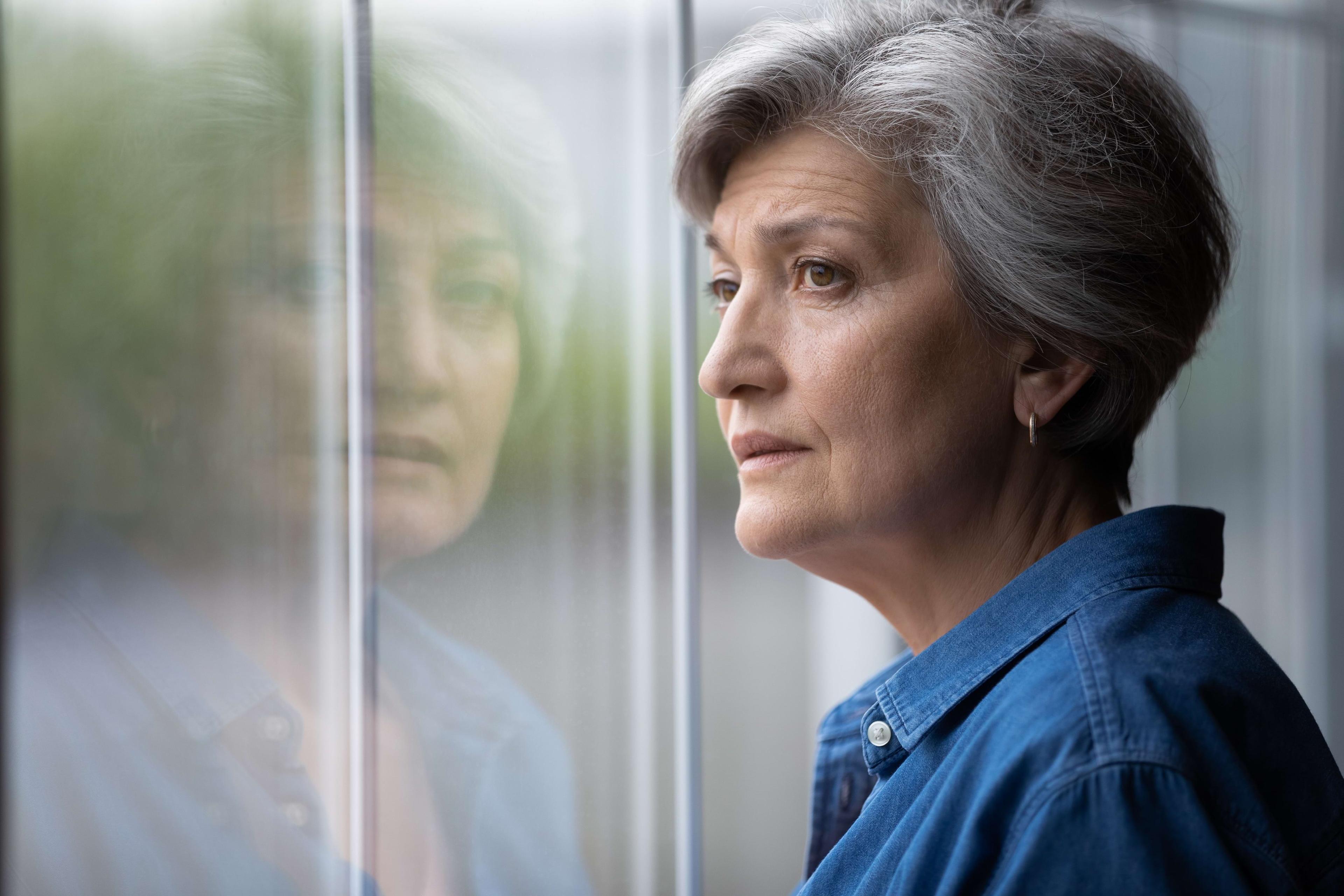 What Are the Signs and Symptoms of Sundown Syndrome?
Also referred to as late-day confusion, sundowning can cause delirium that worsens as the sun sets. Your loved one may begin to experience trouble with several cognitive functions including memory, thinking, reasoning and mood that affect their thoughts, feelings or behaviors. These changes will typically occur around the same time each day. 
How Can Sundowning Affect Someone?
Sundowning symptoms typically begin in the late afternoon and can last into the night. Although each person will be affected by sundown syndrome differently, common symptoms include:
Anxiety
Anger
Depression
Extreme agitation
Delusions or hallucinations
Paranoia and fear
Confusion
Emotional or physical outbursts
Pacing or wandering
Crying
Trouble sleeping
Hiding objects
Inability to follow directions
Are There Ways to Prevent Sundowning?
Once you're able to identify behavioral changes from sundowning in your loved one, you can take measures to prevent symptoms and avoid factors that seem to worsen them. Here are some ways to prevent sundowning and help your loved one live more comfortably:
How to Prevent Symptoms
What to Avoid
Increase light exposure by going outside or sitting by a window to help reset your loved one's circadian rhythm
Caffeinated drinks, such as coffee or soda, late in the day
Encourage daily exercise or engage in other physical activities
Alcoholic drinks, since they can increase confusion and anxiety
Arizona Long-Term Care Ombudsman
(602) 542-6454
ltcop@azdes.gov
Establish a regular and habitual routine
Too many planned activities in a single day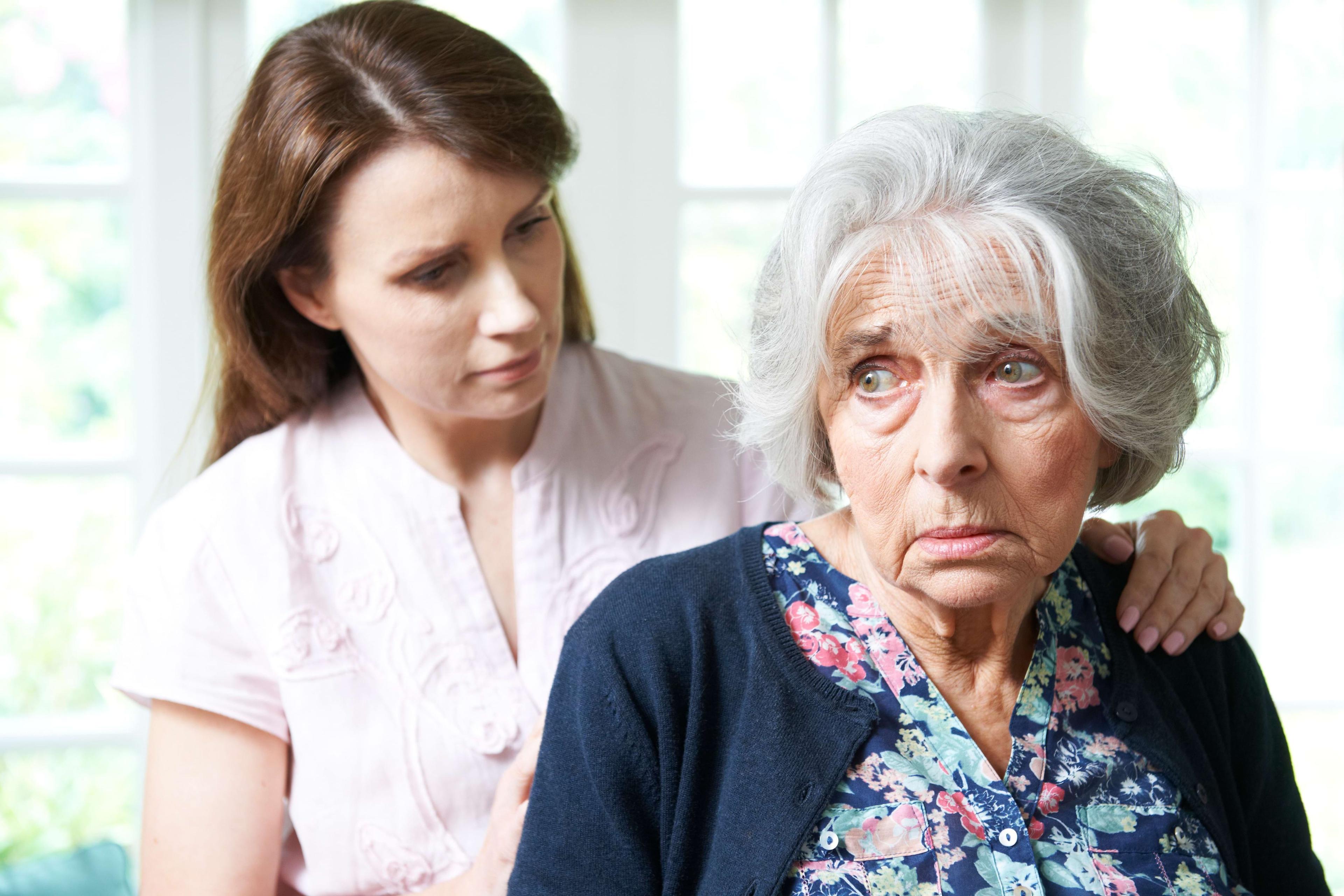 Tips for Caregivers: How to Deal With Sundowning
Helping your loved one navigate sundowning symptoms may take some trial and error, but it's important to remain patient and determine what factors are aggravating symptoms the most. The following tips can help you identify what may be affecting your loved one's symptoms and deal with them in an effective manner. 
Encourage a Regular Routine
Maintaining a regular routine can help your loved one stay oriented and feel less anxious or confused. You can do this by establishing a time for waking up, eating meals and going to bed. Your loved one may find comfort in knowing what to expect throughout the day, and the routine may stabilize their sleep-wake cycle, which can prevent sundowning symptoms. 
Reduce Stimulation at Night
Too much stimulation at night may overwhelm or confuse your loved one. Try to avoid loud noises or too much activity at the end of the day, such as playing music or doing household chores. These can make it harder for your loved one to wind down, resulting in pacing, wandering or trouble sleeping. Schedule these activities in the morning or early afternoon instead. 
Engage in Calming Activities
Since agitation and frustration are common sundowning symptoms, engaging your loved one in calming activities during the late afternoon or early evening may ease these negative emotions. Calming activities can include watching a movie, playing a card game, doing arts and crafts or looking at photographs that evoke happy memories. 
Adjust Lighting
Adjust the lighting in your loved one's home to mimic the time of day. For example, let natural light into the home during the day and use softer room lighting in the evening when your relative is getting ready for bed. 
Consult a Doctor
You may want to talk to your loved one's doctor if sundowning symptoms begin suddenly or increase in intensity. While there isn't a known cure for sundowning, there are certain medications, such as antianxiety, antidepressant and antipsychotic drugs, that can be used to reduce symptoms. Melatonin can also help with sleep. A doctor can let you know the best time of day for medications to be taken. 
Resources for Caregivers of Seniors With Dementia
There are several resources available for caregivers of seniors with dementia. Through the following organizations, caregivers can access online tools and information to learn more about how Alzheimer's or dementia affects their loved ones and what they can do to help. Some resources also provide support groups that allow caregivers to connect with each other and share advice or additional information. 
Resource
Contact
Description
Alzheimer's Association
(800) 272-3900
The Alzheimer's Association offers resources for those living with Alzheimer's or dementia and caregiver support. Caregivers can find helpful information on symptoms, treatment and stages of dementia. The organization also provides online tools, such as workshops and a virtual library for care planning.
Dementia Friendly America
(202) 872-0888
info@dfamerica.org
DFA is a national network that works to support people living with dementia and their caregivers. The organization offers a list of resources to help caregivers find dementia-friendly services in their communities. Online toolkits are also available to launch your own initiatives and improve the quality of life for your loved one.
Family Caregiver Alliance
(800) 445-8106
Contact form
The Family Caregiver Alliance provides resources and services for individuals caring for others with health conditions or disabilities. Caregivers can access a series of guides and videos to learn more about dementia, dealing with difficult behavior and better assisting their loved ones.
Alzheimer's Foundation of America
(866) 232-8484
Contact form
The AFA offers several resources to help caregivers learn more about Alzheimer's and dementia. These resources include webinar series, a guide on creating a dementia-friendly home and a virtual space for caregivers and their loved ones to access therapeutic programs, such as music, art and dance therapies. Caregiver support groups are also available to help caregivers connect and share advice.
National Institute on Aging
(800) 222-2225
niaic@nia.nih.gov
Contact form
The National Institute on Aging offers several articles and other documents to inform caregivers about the effects of Alzheimer's and dementia. It also provides resources that teach caregivers tips on providing care, identifying behavior changes and engaging in activities to help their loved one maintain a high quality of life.
Caregiver Resources & Long-Term Care
(877) 696-6775
The U.S. Department of Health and Human Services provides numerous resources for caregivers of seniors requiring long-term care services for dementia. Caregivers can access information on caring for a loved one with medical needs and support services regarding care options and health insurance. The department also offers updates on its plans to address Alzheimer's disease.
Powerful Tools for Caregivers
(515) 294-8521
ptcaregivers@iastate.edu
Powerful Tools for Caregivers offers online classes and resources to help caregivers learn to take care of themselves while caring for their loved one. By using this site, caregivers can learn how to better manage stress, communicate their feelings, make tough care decisions and find local resources to ensure their loved one with dementia always has access to quality care.
National Family Caregiver Support Program (NFCSP)
(202) 401-4634
Contact form
Operated by the Administration of Community Living, NFCSP provides state grants to fund services that assist adults aged 70 and older and their caregivers.The agency offers information about available services, training and support groups for caregivers.It also provides grants to specifically fund dementia - and Alzheimer & rsquo;s - related activities and community - based support services based on caregiver needs and requests.
National Institute of Neurological Disorders and Stroke (NINDS)
(800) 352-9424
Contact form
NINDS conducts research on the brain and nervous system to better understand how to treat neurological diseases, including Alzheimer's. Caregivers can read about current research and clinical trials. Caregivers can learn about the brain and its functions from the organization to better understand the changes their loved ones are experiencing and to recognize the early signs of a variety of diseases.
Community Resource Finder
Contact form
Community Resource Finder was launched by the Alzheimer's Association and AARP to provide an easy-to-operate database of resources, medical services and community programs for caregivers and those affected by memory loss. Caregivers can find local resources that best align with their loved one's needs and learn about programs, events and support groups hosted by the Alzheimer's Association.