Rhode Island Independent Living
Cost of Rhode Island Independent Living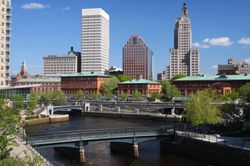 The average cost of Independent Living in Rhode Island is $3,383 per month. This is higher than the national average which is $1,729 per month.
In Rhode Island there are 17 Independent Living Communities. We can help you find the best matches for your needs.
Rhode Island Independent Living Communities by City
Providence Area Independent Living
---
Map of Rhode Island Independent Living Communities
Overview of Rhode Island Independent Living
As one of the founding 13 states, Rhode Island began its history in 1636. Since then, it has moved through a period of religious reformation, the American Civil War and post-Great-Depression growth. The restored Eleazer Arnold House allows visitors to experience Rhode Island as it was in its earliest years. There are also multiple New England mansions scattered across the state, including the beautiful Chateau-Sur-Mer. Rhode Island independent living allows residents to enjoy a mix of American and Mediterranean communities. From the historic side streets of Newport to the charming lanes of Providence, there are friendly communities ready to welcome new residents into their fold. Retirees who love to relax or play golf can take advantage of the many country clubs in the area. Both Newport National Golf Club and Exeter Country Club are renowned across the nation for their challenging courses and excellent hospitality.
Independent Living in Rhode Island Defined
Seniors over the age of 55 who choose an independent living community do not require around-the-clock nursing care or assistance with life's daily activities. Instead, they socialize with others who live in their community and enjoy the activities available. Independent living acts as the ideal solution for those who want the reassurance of having help when they need it, but without losing their freedom. Depending on the community that has been chosen, on-site facilities like laundry, convenience stores, social programs and exercise equipment are available. Retirees who need an added level of support services should consider moving into an assisted living facility or nursing home instead. You can find facilities that offer assisted living services and skilled nursing care in Rhode Island in our
Assisted Living
and
Nursing Home
categories.
Back to Top