Continuing Care Communities
Memory Care
Independent Living
Assisted Living
Get Pricing & Availability for Palmilla Senior Living
By clicking "Get Costs" I am providing express written consent to receive calls including automated/pre-recorded calls and automated texts for which I may incur a cost, as well as emails from Caring and its partners. I understand I am not obligated to provide this consent to utilize Caring's service(s). I acknowledge I was able to review the Agreement to be Contacted, Terms of Use, and Privacy Policy.
Description of Palmilla Senior Living
Set in vibrant Albuquerque which broasts numerous places to explore, Palmilla Senior Living is retirement community that has all the amenities active seniors need to create the retirement they've always imagined. From our At Your ServiceSM hospitality to our engaging activity program, seniors won't find a better place for their loved one to call home.
Palmilla Senior Living is owned and operated by Spectrum Retirement Communities, LLC, a leading developer of retirement communities across the country. At Spectrum, our goal is to provide affordable luxury living to all seniors.
Featured Amenities
Our luxurious accommodations come in a range of studio, one- and two-bedroom floor plans. All apartment homes come with private bathrooms, in-suite climate controls and 24-hour emergency calls systems for added safety and security. The independent apartments have fully equipped kitchens and balconies or walk-out patios.
Life at Palmilla Senior Living is always dynamic and exciting with on-site amenities such as a full-service beauty salon and day spa, a gourmet demonstration kitchen for cooking classes and an in-home theater for live entertainment. There are also lounges with fireplaces that make for cozy areas to gather with friends and family.
Available Services
Residents of our community enjoy a number of convenient services including scheduled bus transportation to local appointments, weekly housekeeping, restaurant-style dining in the elegant dining room and the European-style bistro, and of course there is our At Your ServiceSM concierge program.
To support our residents' desire for independence, we craft a care plan that outlines the level of assistance with activities of daily living that is needed. We also provide in-house physical, occupation and speech therapy, along with monthly health screens and blood pressure checks. For residents requiring memory care, our The Path to the PresentSM allows them to continue living an engaging life.
Palmilla Senior Living is the community of choice for families seeking assisted living services delivered by a highly qualified staff.
Palmilla Senior Living Amenities
Games Hobbies & Recreation
Inside Amenities
Cable/Satellite TV in Common Area
Housekeeping & Maintenance
Private Housekeeping Services
Room Amenities
Kitchen Appliances In Unit
Financing & Payment Options
Fitness & Wellness Programs
Yoga/Stretching opportunities
Photos of Palmilla Senior Living
Tour Palmilla Senior Living
The best way to get to know a community is by scheduling a tour. See the facilities, meet the staff and residents, and get a feel firsthand what it's like to live at Palmilla Senior Living.
By clicking "Get Costs" I am providing express written consent to receive calls including automated/pre-recorded calls and automated texts for which I may incur a cost, as well as emails from Caring and its partners. I understand I am not obligated to provide this consent to utilize Caring's service(s). I acknowledge I was able to review the Agreement to be Contacted, Terms of Use, and Privacy Policy.
Map of Palmilla Senior Living
Costs at Palmilla Senior Living
Request Information from Palmilla Senior Living
By clicking "Get Costs" I am providing express written consent to receive calls including automated/pre-recorded calls and automated texts for which I may incur a cost, as well as emails from Caring and its partners. I understand I am not obligated to provide this consent to utilize Caring's service(s). I acknowledge I was able to review the Agreement to be Contacted, Terms of Use, and Privacy Policy.
Reviews of Palmilla Senior Living
Edward
Our visit to Palmilla Senior Living was great, and we're continuing to evaluate it. They offer a variety of activities, and they also have some flexibility in their program that allows people to transition to the memory care from the independent and assisted care. They offer three meals a day.
Benjamin
My visit to Palmilla was very good. It's very clean, very well-run, the restaurant is excellent, and we had a meal there. It's friendly and clean, the staff member was very informative, and knowledgeable about everything. We saw two or three apartments, a movie house, a gym, they will drive you to the swimming pool, they have daily activities, and they have enough to do that most people are quite satisfied. They would be the place we would choose.
David
We had lunch at Palmilla Senior Living, toured the facility, looked at the apartments, and went over all the policies. It was very nice, very acceptable, and clean. The personnel know what they're doing and the housekeeping staff was very friendly. The apartments were clean and well equipped with a small kitchen. They follow up with you. They had a cafeteria, which is a sit down place, and I liked the food. You can get your meal anytime at certain hours, and the service was extremely good. They've been recommended to me by a neighbor whose mother is there. I was very pleased with it. They had a lot of activities. They had a movie room, gym, games, visit places, and take you to your doctors and shopping. The staff was very good. They clean the apartments every 2 weeks.
Richard
Palmilla Senior Living was nicer than the other places we went to. It seemed cleaner, and I liked the feel and vibe overall. Marcy, the event coordinator or director, was very nice. There's a bedroom and bathroom in the room that's pretty standard.
EM
I am a friend or relative of a current/past resident
We were residents of Palmilla for a month. Our experience was good. Cleanliness was very good, and the rooms were spacious. However, they kept raising their price. The food was fair but not great. As for activities, about all we did was watch television, which wasn't a real activity. Once a month, we would go outside the compound. They would give us wine, and there was a little bit of dancing, but that was about it.
Dorothy
We visited Palmilla Senior Living. The rooms seemed a little bit smaller, but the whole place seemed nicer. The food was good, and the activities were pretty impressive. They have TGIF even though when you're retired there are no Fridays and you don't celebrate the end of the work week. They were going to have a little get-together later that Friday afternoon. They seemed to go to a lot of places, and the facility seemed to be more polished than other places.
Harry
Palmilla is a fairly good place, although they have very limited parking. The rooms were about the same size as most of the other senior places I have been. In terms of amenities, they seem to have the same things that others also have. Their location is also a problem to me personally, but they provide transportation to the area of the main hospital.
Assisted Living Articles and Resources
Nearby Senior Communities
Expand your provider search by geography and care type.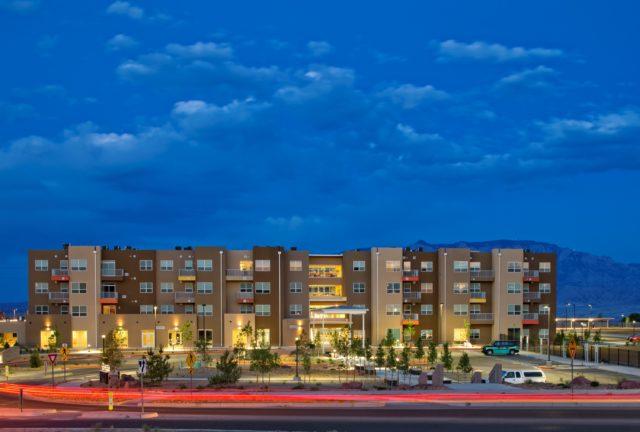 The Neighborhood In Rio Rancho I
900 Loma Colorado Blvd NE,
Rio Rancho, New Mexico 87124