Nebraska Nursing Homes
Cost of Nebraska Nursing Homes
The average cost of Nursing Homes in Nebraska is $197 per day. This is lower than the national average which is $228 per day.
In Nebraska there are 244 Nursing Homes. We can help you find the best matches for your needs.
Nebraska Nursing Homes by City
Other Areas in Nebraska
Map of Nebraska Nursing Homes
Overview of Nebraska Nursing Homes
Nebraska offers a host of scenic spots from which to enjoy a variety of activities. The wide open prairies offer the opportunity to watch wildlife, play golf or enjoy any one of the number of festivals that are scheduled during the summer months. Museums that celebrate the natural wonders of this state and the rich heritage of the Plains Indians, explorers and pioneers are all waiting to be explored. A variety of shopping and dining experiences are available as well. For residents in Nebraska nursing homes, access to good medical care that specializes in a variety of different conditions is a key priority when choosing to move to the state. The Nebraska Medical Center, located in Omaha, is a teaching hospital. As such, it has access to some of the latest research and techniques in the country. This hospital has been highly ranked in the cardiology and heart surgery, cancer, geriatrics and urology departments. Methodist Hospital and the Alegent Health Medical Center and Hospital are other highly ranked medical facilities in the state.
Nursing Homes in Nebraska Defined
A nursing home in Nebraska is a facility that is designed to offer skilled nursing care 24 hours a day to seniors who are not able to obtain the level of care they need in their own home due to an acute or chronic illness. A resident in a nursing home could require long term or short term care, depending on a host of different possibilities. Intermediate care that provides assistance for daily care and oversight for medical needs, if necessary, is often also available in nursing homes. For a living arrangement that is more like a home, assisted living facilities are available. These apartments like facilities tend to be less expensive than nursing homes. They are ideal for those seniors who need some assistance on a daily basis but who do not need round-the-clock care.
Regulation of Nebraska Nursing Homes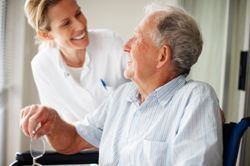 The Nebraska Department of Health and Human Services regulates Nebraska nursing homes. Prior to opening, the nursing home is inspected by the agency. In addition, the agency may perform an inspection at any given time. Nurse aides are required to pass a training course that has been state approved before being employed at a healthcare facility, including a nursing home. A competency evaluation program that includes a skills test as well as a written test is also required.
Paying for Nursing Homes in Nebraska
This price could increase in a large metro area or it could decrease in a nursing home in a rural area. This charge includes room and board, skilled or intermediate nursing care as needed and daily care. If the senior's doctor orders other services, such as therapies, that charge is additional and billed in a separate manner.
Back to Top