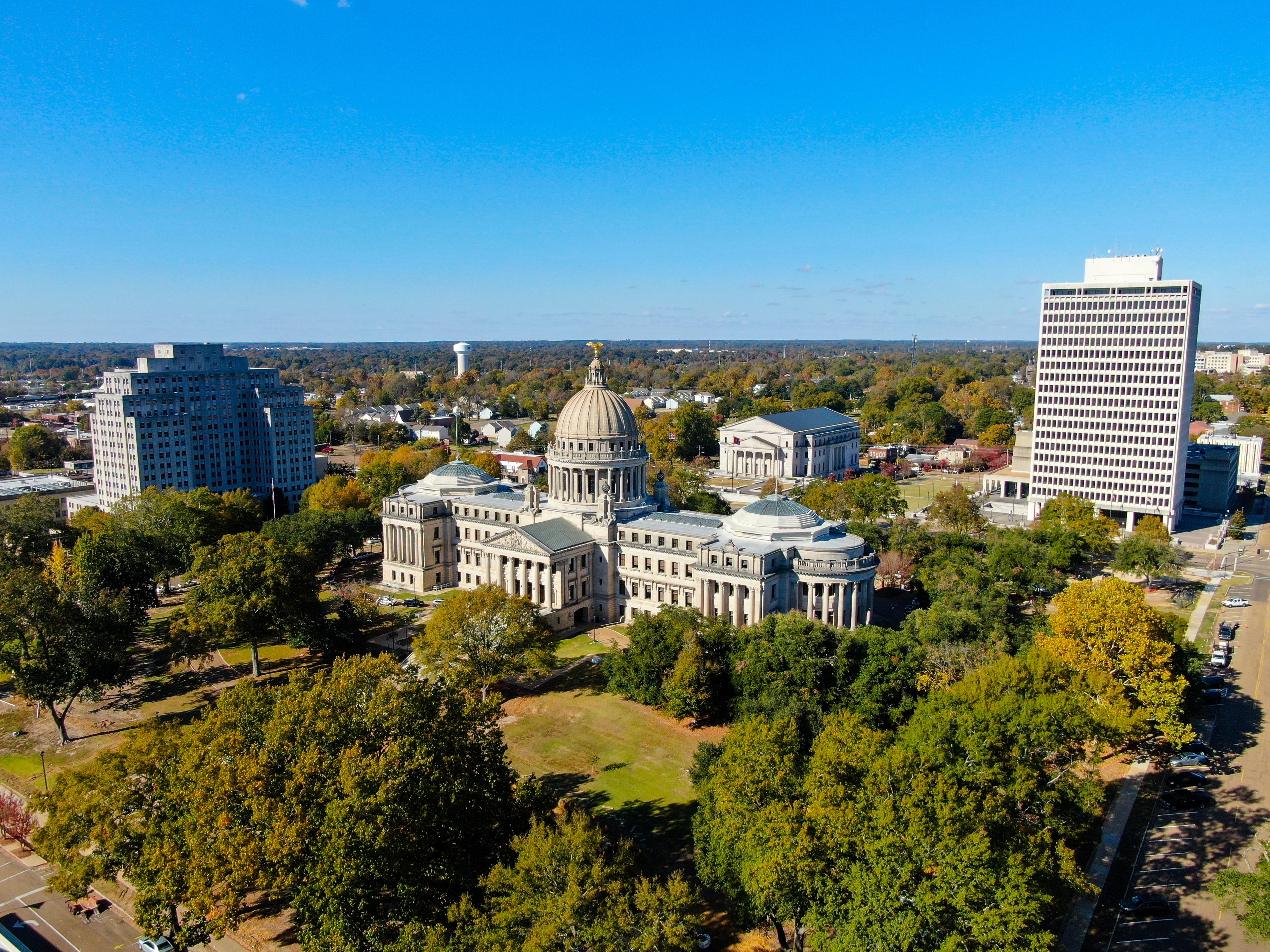 Nursing Homes in Mississippi
Seniors who require round-the-clock medical assistance in a residential community in Mississippi have the option of nursing home care. These facilities are designed for seniors who don't require hospitalization but can't remain in their homes due to their medical needs. They provide services such as skilled nursing, speech, occupational and physical therapy, wound care, and IV and medication administration. Along with medical care, nursing homes also provide custodial care, or help with bathing, feeding, assistance getting in and out of bed and dressing. Out of nearly 3 million residents, approximately 13,756 individuals reside in the state's 204 nursing homes.
This guide covers financial options for seniors who need help paying for nursing home care. It also includes details on how to apply for Medicare and Medicaid and the qualifications needed for each. There's also a section detailing the nursing home laws and regulations, so seniors know what to expect regarding the quality of care.
Cost of Mississippi Nursing Homes
The average cost of nursing homes in Mississippi is $205 per day. This is higher than the national average which is $228 per day.
Can You Use Medicaid to Pay for Nursing Home Care in Mississippi?
Mississippi Medicaid covers the cost of medical services provided in nursing homes, including doctor visits, therapy, medications and skilled nursing. The number of seniors enrolled in Mississippi Medicaid is just over 770,000, as of December 2022. 
In addition, there are several Home and Community-Based Waivers to help cover additional services, including personal care services like grooming, bathing, meals and transportation. This includes the Elderly and Disabled Waiver program, which covers home-delivered meals, respite care, physical and speech therapy and community transition services.
Eligibility for Medicaid in Mississippi
To qualify for Mississippi state Medicaid, seniors must meet income and asset limits, which are based on household size. A single applicant can have an income of no more than $2,742 per month, with assets totaling $4,000. Income refers to any funds an individual receives throughout the year, including money from friends and family, retirement distributions, Social Security Income and Social Security Disability.
When married couples apply together, the total income can't exceed $5,484 per month, or $2,742 per spouse, with assets totaling no more than $6,000. When only one spouse applies, the spouse who remains at home may be entitled to additional funds through the spousal impoverishment rule. In 2023, the Monthly Maintenance Needs Allowance (MMNA) is $3,715.50, which means an amount from the applicant spouse is transferred to the non-applicant spouse to bring their income up to the MMNA.
| | Income Limits* | Asset Limits |
| --- | --- | --- |
| Single Person | $2,742 per month | $4,000 |
| Two-Person Household | $5,484 per month($2,742 per month per spouse) | $6,000 |
*Per year
Aside from income and asset limits, additional eligibility requirements include:
At least 65 years of age
Mississippi resident
U.S. Citizen, legal alien or permanent resident of the United States
Applying for Medicaid in Mississippi
There are multiple ways seniors may apply for Mississippi Medicaid. Applications may be taken online through AccessMS or through the Health Insurance Marketplace. Individuals may also contact the program directly by phone at (800) 421-2408 or by downloading an application and submitting it by fax at (601) 576-4164. Additionally, applications can be submitted in person at one of the 30 regional offices.
Before applying, seniors should gather the necessary documentation requested by the Mississippi Medicaid office.
What Information You Will Need
5 years of financial statements, including bank statements, investments, annuities and IRAs
A Social Security Administration letter detailing the gross amount of income and deductions
Social Security numbers for all applicants
Copy of birth certificates or immigration status for all applicants
Past 5 years of income tax records
Proof of health care coverage and costs
List of assets, including real estate titles
Proof of life insurance and amounts
Legal documents stating powers of attorney
Additional Medicaid Support & Resources in Mississippi
Multiple resources are available to help seniors apply for Mississippi state Medicaid. These services include qualification details and information on additional insurance options.
| | Contact | Service |
| --- | --- | --- |
| Central Mississippi Area Agency on Aging | (601) 981-1511 | The Central Mississippi Area Agency on Aging offers insurance counseling to seniors in the area. Volunteers can answer questions regarding Medicaid and Medicare and provide details about Medigap, prescription coverage and long-term care insurance plans. |
| Medicaid.gov | (877) 267-2323 | Medicaid.gov is the official federal site for Medicaid. Seniors can apply for the program through the website or by calling and speaking to a counselor. The site offers information on the different waiver programs and application qualifications. |
| Mississippi Division of Medicaid | (800) 421-2408 | The Mississippi Division of Medicaid is the main help provider for Medicaid in the state. Seniors may contact the program directly to receive information about health coverage, including details about the different waiver programs. |
Can You Use Medicare to Pay for Nursing Home Care in Mississippi?
Medicare provides limited coverage for short-term stays in a skilled nursing facility following a hospital stay, but seniors must meet a number of specific requirements. This benefit is available to beneficiaries who have been hospitalized for at least three days, excluding the date of discharge, so it's most valuable for those who are recovering from an injury, illness, or surgery.
Once seniors meet the hospitalization requirement, Medicare will pay for up to 100 days of skilled nursing per benefit period. The first 20 days are covered in full. Starting on day 21, beneficiaries must pay a daily coinsurance rate. After day 100, seniors are responsible for the entire cost.
What Does Medicare Cover?
Medicare covers a number of specific services, including:
Meals
A semiprivate room
Medications
Skilled nursing
Physical therapy
Occupational therapy
Speech therapy
Audiologist care
Medical supplies
Medical social services
Nutritional counseling
Ambulance transportation
What Isn't Covered by Medicare?
Medicare does not cover long-term custodial care that addresses seniors' day-to-day needs. This includes help with daily activities, such as bathing, dressing and using medical equipment.
For more information about Medicare and when it covers Nursing Home Care, read our Guide to Nursing Homes.
Medicare Support & Resources in Mississippi
Medicare doesn't cover long-term care in nursing homes or other settings. It will cover the cost of short-term medical services, including inpatient hospital stays and short-term stays in a skilled nursing facility. The following resources provide guidance through the application process.
| | Contact | Service |
| --- | --- | --- |
| Medicare.gov | (800) 633-4227 | Medicare.gov is the official federal website for Medicare. This site offers information on Medicare, including who qualifies and how to apply, as well as insight about additional public benefits. |
| Mississippi's State Health Insurance Program (SHIP)s | (601) 339-4500 | SHIP is a state counseling program that answers questions about Medicare and helps seniors determine how much coverage they need and whether personal and long-term insurance should be an option. Trained volunteers also offer unbiased help in assisting seniors to understand their doctor bills and how to file Medicare appeals. |
| Mississippi Bar Association | (601) 948-4471 | The Mississippi Bar Association helps seniors navigate Medicare and Medicaid and assists them through the application process and helps seniors figure out what benefits they are eligible for. The Bar also helps with benefit appeals for those who have applied and been denied service. |
Other Financial Assistance Options for Nursing Home Care in Mississippi
While Medicaid and Medicare are two of the most common programs used to pay for Nursing Home Care, there are other financial assistance options available, depending on your unique situation.
| | How to Apply | How It Works |
| --- | --- | --- |
| Aid and Attendance | Learn more and apply online at va.gov. | Veterans who receive a VA pension may also be eligible for the Aid and Attendance benefit, a monthly cash allowance that veterans receive in addition to their standard pension amount. The benefit is intended for veterans in need of long-term care services and may be used towards paying for skilled nursing care. |
| Reverse Mortgages | Learn more about your options and how to apply at ftc.gov. | If you own a home, you may be able to use a reverse mortgage to help pay for nursing care. Reverse mortgages are loans that one can take out against the value of their home, essentially converting some of the home's equity into cash. This type of funding can be especially useful for married couples when only one partner needs nursing care, as the other residents of the home may continue living there. Reverse mortgage loans do need to be repaid with interest, typically within 12 months of receiving the loan. |
| Long-Term Care (LTC) Insurance | Learn more about Long-Term Care Insurance and how to apply for a policy at acl.gov. | Seniors who already have long-term care insurance may be covered for skilled nursing care. Most policies cover at least a portion of the cost of nursing home care, but it depends on the specific policy terms. Note that older adults who are already in need of skilled nursing care will not be eligible to sign up for a LTC insurance policy. |
Nursing Home Laws and Regulations in Mississippi
| | |
| --- | --- |
| Licensing Requirements | All health care facilities, including nursing homes, in Mississippi are regulated and licensed by the Mississippi State Department of Health, Division of Health Facilities Licensure and Certification. All communities are held in compliance with state and federal standards to ensure a high quality of care. |
| Staffing Requirements | All nursing homes must have an RN on staff seven days per week, and those with at least 180 beds must have an RN to serve as the Director of Nursing Services. Each shift must have an RN or LPN to act as charge nurse. |
| Staff Training Requirements | All employees must receive in-service education programs on an ongoing basis. CNAs in Mississippi must complete 75 hours of education and pass the NNAAP exam. They must also complete a minimum of 16 hours of clinical practice. |
| Admission Restrictions | Licensing may be revoked if a nursing home accepts a resident whose condition requires more than what the facility can provide. |
| Care Planning Requirements | Prior to admission, residents must sign a written agreement that includes the cost of care, which is developed by the licensing agency. Residents must also submit to a physical 30 days before admission and then annually. |
| Dietary and Nutritional Services Requirements | Facilities must provide three quality meals each day that meet the recommended daily allowance for nutrition. Menus must be provided at least one week in advance and the facility must adhere to a daily schedule. Facilities must meet the special dietary needs of residents. |
| Specialized Rehabilitative Services | Facilities must provide speech, occupational and physical rehabilitation services by a qualified therapist as needed. All equipment and supplies must be provided. |
| Medication and Pharmaceutical Services | All facilities must employ a licensed pharmacist who maintains the medication records of all patients. The pharmacist must provide a medication review for each patient every 30 days. |
| Activities Requirements | Facilities must hire an activities director who is in charge of resident activities. Residents must have access to a variety of recreational and entertainment activities. There should also be space outside traditional common spaces for hobbies and activities. |
| Infection Control Requirements | All residents must submit to annual tuberculosis testing or provide proof from a physician of a negative test result. Each facility must also have an infection control program in place and must follow standards to prevent the spread of disease. |
| Medicaid Coverage | Medicaid covers the cost of skilled nursing and medical care for seniors who meet income and asset restrictions. Seniors must be at least 65 years of age or older and have an income that's no more than 135% of the Federal Poverty Level. |
Find Communities
Senior Homes has an extensive directory of senior living options, with care and living providers across the United States. 
Nursing Homes Articles and Resources
Compare Costs, Photos, & Reviews of All Your Options Near Mississippi
By clicking "Get Costs" I am providing express written consent to receive calls including automated/pre-recorded calls and automated texts for which I may incur a cost, as well as emails from Caring and its partners. I understand I am not obligated to provide this consent to utilize Caring's service(s). I acknowledge I was able to review the Agreement to be Contacted, Terms of Use, and Privacy Policy.