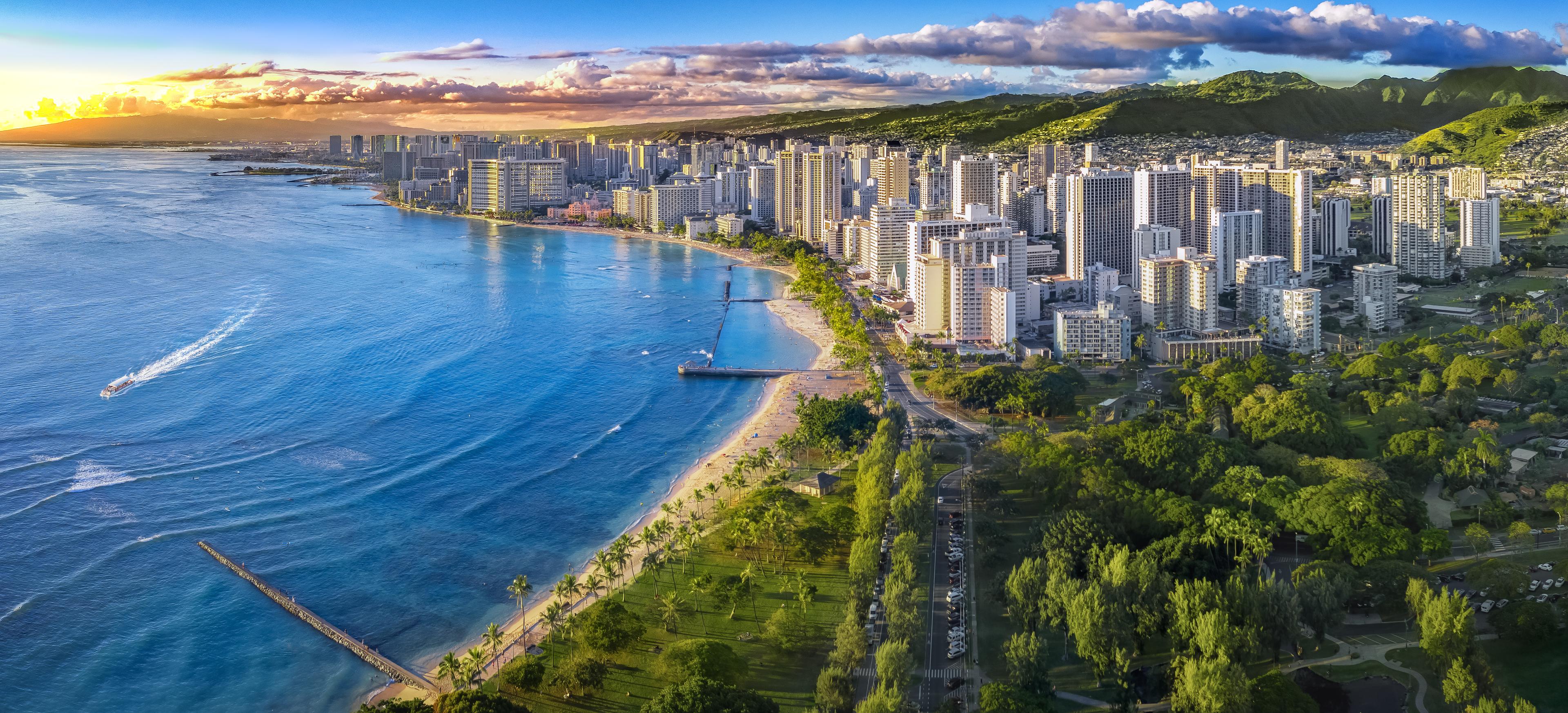 Nursing Homes in Hawaii
Located in the Pacific Ocean, about 2,000 miles off the U.S. coast, Hawaii is a tropical paradise known for its picturesque beaches, scenery, and unique culture. The state is home to over 1.4 million residents, nearly one-fifth of whom are seniors aged 65 and older. Its laid-back environment and beautiful weather make it a popular choice for retirees, but it also offers plenty of support for seniors as they age.
As seniors' daily needs become more complex, many families look to long-term care as a way to ensure their loved ones receive the level of care support they need. Nursing facilities can serve as a suitable option for over 3,000 seniors in Hawaii who require a high level of skilled nursing care and around-the-clock supervision. These environments feature highly trained nursing staff on-site 24 hours a day to deliver personalized care and assistance, as well as rehabilitative therapies and wellness programming. In total, there are 43 nursing facilities in Hawaii.
This guide offers information about these facilities, including the options available to pay for nursing care, where seniors can get financial support and some of the laws and regulations that apply to nursing homes in Hawaii.
Cost of Hawaii Nursing Homes
The average cost of nursing homes in Hawaii is $342 per day. This is higher than the national average which is $228 per day.
Can You Use Medicaid to Pay for Nursing Home Care in Hawaii?
Seniors in need of nursing care can receive financial support through Hawaii's state Medicaid program, Med-QUEST. The program operates within the State of Hawaii, Department of Human Services, and there are currently over 460,000 individuals enrolled in the state Medicaid program. In addition to regular Medicaid assistance for elderly individuals, Med-QUEST offers an entitlement program for individuals living in nursing homes.
The QUEST Integration Benefits program offers assistance for individuals in need of long-term services and supports (LTSS). These benefits are available to individuals who require a nursing home level of care, as determined by a physician's evaluation. The program is divided into two categories: institutional services for individuals living in nursing facilities and home and community-based services for individuals who have chosen to age in place. Those in institutional settings can receive financial assistance to cover the cost of room and board, medications and personal care. Home and community-based services can cover items such as adult day health care or assisted living services, home-delivered meals, non-medical transportation and caregiver respite.
Additionally, Hawaii operates a program called the Going Home Plus (GHP) project, which helps individuals who are currently living in nursing homes or intermediate care facilities to transition back to a community setting. The project is a joint effort of the Hawaii Department of Human Services Med-Quest Division and the University of Hawaii Center on Disability Studies. A transition coordinator works with individual participants and families to coordinate transitions and moving assistance and arrange for services such as case management, in-home personal care assistance, home maintenance and accessing special medical equipment.
Eligibility for Medicaid in Hawaii
Unlike many states, Hawaii does not impose specific income limitations in order for seniors to qualify for Medicaid benefits. However, to qualify, the entirety of their income must be directed toward the cost of nursing home care, with the exception of personal needs allowances and Medicare premiums. There are limitations to the amount of personal assets applicants can have. Single applicants must have no more than $2,000 in countable assets. Individual applicants who are married are also limited to $2,000 in assets, while their nonapplicant spouse may have up to $137,400, as per the Spousal Impoverishment Act. Couples applying together can have no more than $4,000 in personal assets.
| | Income Limits* | Asset Limits |
| --- | --- | --- |
| Single Person | No hard income limit | $2,000 |
| Married Applicants(Only One Spouse Applying) | No hard income limit | $2,000 for applicant, $137,400 for nonapplicant |
| Married Applicants(Both Spouses Applying) | No hard income limit | $4,000 |
* Per year
In addition to these financial limitations, applicants must meet several other requirements. Seniors must require a nursing home level of care and be:
A United States citizen
A resident of Hawaii
65 years of age or older
Applying for Medicaid in Hawaii
Seniors can apply for Medicaid in Hawaii online, over the phone, by mail or in person. Applying online is the fastest and easiest way for applications to be processed. To do so, seniors can visit the Med-QUEST Division website and fill out an application form. To apply by phone, individuals can call the Med-QUEST Customer Service toll-free at (800) 316-8005. Seniors can also apply in person by visiting their nearest Med-QUEST division Eligibility Office or download a PDF version of the application, fill it out and submit it to their local office via mail or fax.
Seniors applying for long-term services and supports will be required to fill out additional forms in addition to those for basic health coverage. When applying, individuals should have the necessary documentation available to ensure their application is processed and completed in a timely manner. 
What Information You Will Need
Copy of birth certificate
Social Security number or copy of permanent resident card
Current health insurance policies
Bank statements for the prior 60 months
Proof of earned and unearned income, including pensions, Social Security, veteran's benefits, SSI, etc.
Proof of assets, including real estate, bonds, stocks and trusts
Car registration and insurance
Information about current mortgages and loans
Copies of life insurance documents and burial contracts
Documents pertaining to end-of-life-planning, including wills and power of attorney 
VA discharge papers (DD214), if applicable
If additional information is needed, the Med-QUEST Division will contact individual applicants directly.
Additional Medicaid Support & Resources in Hawaii
Navigating Medicaid can be complex. There are numerous statewide and federal resources available to help seniors understand Medicaid, find the right plan for their needs and apply for benefits. The following list includes organizations that can provide information, benefits counseling services and referrals.
| | Contact | Service |
| --- | --- | --- |
| Hawaii Aging & Disability Resource Center (ADRC) | (808) 643-2372 | The Hawaii ADRC can help seniors and families navigate their options for long-term care supports and services. This may include helping participants find nursing homes in their community, health insurance counseling services and in-home care. Individuals can contact the ADRC for general information and resource referrals. Those residing in nursing homes can also benefit from the state's Long-Term Care Ombudsman Program. |
| Benefits.gov | (888) 342-6207 | Benefits.gov is the United States' official website for government benefits available both federally and in individual states. Individuals can use the website's SSA Benefit Eligibility Screening Tool to determine their eligibility for financial aid and health benefits, such as Medicare, Medicaid and SSI, and be directed to applicable resources and agencies that match their needs. |
| Medicaid Planning Assistance | Online only | Medicaid Planning Assistance is a free online service offered by the American Council on Aging, designed to help seniors understand how Medicaid works and the benefits they're eligible for, including HCBS waivers. The organization can advise on Medicaid planning assistance options, ranging from self-planning to case management services, elder law attorneys and financial planners. |
Can You Use Medicare to Pay for Nursing Home Care in Hawaii?
Medicare provides limited coverage for short-term stays in a skilled nursing facility following a hospital stay, but seniors must meet several specific requirements. This benefit is available to beneficiaries who have been hospitalized for at least three days, excluding the date of discharge, so it's most valuable for those who are recovering from an injury, illness, or surgery.
Once seniors meet the hospitalization requirement, Medicare will pay for up to 100 days of skilled nursing per benefit period. The first 20 days are covered in full. Starting on day 21, beneficiaries must pay a daily coinsurance rate. After day 100, seniors are responsible for the entire cost.
What Does Medicare Cover?
Medicare covers several specific services, including:
Meals
A semiprivate room
Medications
Skilled nursing
Physical therapy
Occupational therapy
Speech therapy
Audiologist care
Medical supplies
Medical social services
Nutritional counseling
Ambulance transportation
What Isn't Covered by Medicare?
Medicare does not cover long-term custodial care that addresses seniors' day-to-day needs. This includes help with daily activities, such as bathing, dressing and using medical equipment.
For more information about Medicare and when it covers Nursing Home Care, read our Guide to Nursing Homes.
Medicare Support & Resources in Hawaii
While Medicare doesn't fully cover long-term care, the program can cover the costs of a senior's first 21 days in a nursing home to allow families to plan for long-term care expenses. Seniors in Hawaii may look to the following programs and organizations for financial assistance, options counseling and information about long-term care.
| | Contact | Service |
| --- | --- | --- |
| Hawaii State Health Insurance Assistance Program (SHIP) | (888) 875-9229 | Hawaii SHIP can help seniors through the process of applying for Medicare benefits. Trained and certified volunteer counselors can work with seniors one-on-one to offer information about the basics of Medicare, and what it covers, supplemental coverage options and how to maintain their benefits. The program can also help seniors locate resources to help cover Medicare costs. |
| Senior Medicare Patrol Hawaii (SMP) | (800) 296-9422 | Senior Medicare Patrol Hawaii aims to prevent health care fraud, abuse and errors, protecting seniors' finances and assets. Administered by the Hawaii State Department of Health, Executive Office on Aging (EOA), the volunteer-based federal program offers information, education and counseling to help seniors detect, prevent and report Medicare fraud. |
| Medicare.gov | (800) 633-4227 | Seniors and families can look to Medicare.gov for information and assistance with enrolling in Medicare. The site can walk individuals through the basics of Medicare, what benefits they may be eligible for and what plans may best suit their needs. The organization operates a free 24/7 that seniors can call for advice and assistance with applications. |
| Social Security Administration | (800) 772-1213 | Not only does the Social Security Administration administer government health benefits and Supplemental Security Income (SSI) for Americans aged 65 and older, but it can also provide assistance with Medicare. The organization allows seniors to check their eligibility for benefits and sign up for Medicare. It also allows seniors to keep track of their application status and file an appeal for a denied claim if necessary. |
| Medicare Rights Center | (800) 333-4114 | The Medicare Rights Center is a nationwide nonprofit dedicated to helping seniors navigate the complexities of the Medicare system, from understanding their individual rights to which health care plans can provide them with the services they need. Through its counseling services, educational programs and advocacy efforts, the organization offers step-by-step assistance with the application process, including helping seniors to select the right policy, coordinating benefits with other insurance policies and appealing denied applications. |
Other Financial Assistance Options for Nursing Home Care in Hawaii
While Medicaid and Medicare are two of the most common programs used to pay for Nursing Home Care, there are other financial assistance options available, depending on your unique situation.
| | How to Apply | How It Works |
| --- | --- | --- |
| Aid and Attendance | Learn more and apply online at va.gov. | Veterans who receive a VA pension may also be eligible for the Aid and Attendance benefit, a monthly cash allowance that veterans receive in addition to their standard pension amount. The benefit is intended for veterans in need of long-term care services and may be used towards paying for skilled nursing care. |
| Reverse Mortgages | Learn more about your options and how to apply at ftc.gov. | If you own a home, you may be able to use a reverse mortgage to help pay for nursing care. Reverse mortgages are loans that one can take out against the value of their home, essentially converting some of the home's equity into cash. This type of funding can be especially useful for married couples when only one partner needs nursing care, as the other residents of the home may continue living there. Reverse mortgage loans do need to be repaid with interest, typically within 12 months of receiving the loan. |
| Long-Term Care (LTC) Insurance | Learn more about Long-Term Care Insurance and how to apply for a policy at acl.gov. | Seniors who already have long-term care insurance may be covered for skilled nursing care. Most policies cover at least a portion of the cost of nursing home care, but it depends on the specific policy terms. Note that older adults who are already in need of skilled nursing care will not be eligible to sign up for a LTC insurance policy. |
Nursing Home Laws and Regulations in Hawaii
| | |
| --- | --- |
| Licensing Requirements | In Hawaii, nursing homes, which may be classified as nursing facilities or skilled nursing facilities, are licensed and regulated by the Department of Health, Office of Health Care Assurance. Facility administrators are required to hold a valid Nursing Home Administrator license. Licenses are renewed annually, subject to passing a state-administered inspection. |
| Staffing Requirements | While there are no minimum ratios, a facility must employ the appropriate staff levels to serve its patients' care needs. There must be at least one licensed medical professional on-site at all times. Facilities must also contract a physician to serve as a dedicated medical director. |
| Staff Training Requirements | Staff must complete a comprehensive orientation to acquire them with the facility's policies and procedures. All staff members must be qualified in first aid and CPR. Additional in-service training is conducted on an annual basis, covering topics such as patient rights, personal care, behavioral management and infection control. |
| Admission Restrictions | Individuals may only be admitted to a nursing home if it is determined by a physician assessment that they require a high level of care and assistance that cannot be met in a less restrictive setting. Individuals with behavioral issues or mental conditions that may pose a threat to themselves or others may be denied admission. |
| Care Planning Requirements | Each new resident receives a comprehensive care plan upon admission to the facility. Plans are tailored to meet seniors' individual physical, emotional and social needs. Plans must be reviewed at least annually, though changes can be made should a resident experience a significant change in their health or condition. |
| Dietary and Nutritional Services Requirements | Nursing homes are required to serve at least three meals daily. Menus must be diverse, nutritionally balanced and prepared by a certified dietitian or individual with equivalent qualifications. |
| Specialized Rehabilitative Services | Facilities must provide specialized and supportive rehabilitation services, including physical, speech and occupational therapy, according to residents' individual needs. Services may be provided on-site by qualified staff or arranged with an off-site partner. |
| Medication and Pharmaceutical Services | Only licensed staff can administer prescription medications to patients. A licensed pharmacist must be employed or contracted by a facility to oversee medication administration and keep an updated record of the times and dosages of the medications administered. |
| Activities Requirements | Facilities must develop independent and group activities to suit the needs, abilities and interests of each individual resident as part of their personal plan of care. The activities program is to be overseen by a qualified staff member. |
| Infection Control Requirements | Nursing homes are required to have policies and procedures in place to prevent and control infectious diseases. Facilities must have at least one single bedroom with a private toilet and a nurses' call system to serve as an isolation room. |
| Medicaid Coverage | Hawaii's Medicaid program, Med-QUEST, covers the cost of nursing facilities for seniors who meet the established financial limitations and require a nursing home level of care. |
Find Communities
Senior Homes has an extensive directory of senior living options, with care and living providers across the United States. 
Nursing Homes Articles and Resources
Compare Costs, Photos, & Reviews of All Your Options Near Hawaii
By clicking "Get Costs" I am providing express written consent to receive calls including automated/pre-recorded calls and automated texts for which I may incur a cost, as well as emails from Caring and its partners. I understand I am not obligated to provide this consent to utilize Caring's service(s). I acknowledge I was able to review the Agreement to be Contacted, Terms of Use, and Privacy Policy.