Wellington Woods Memory Care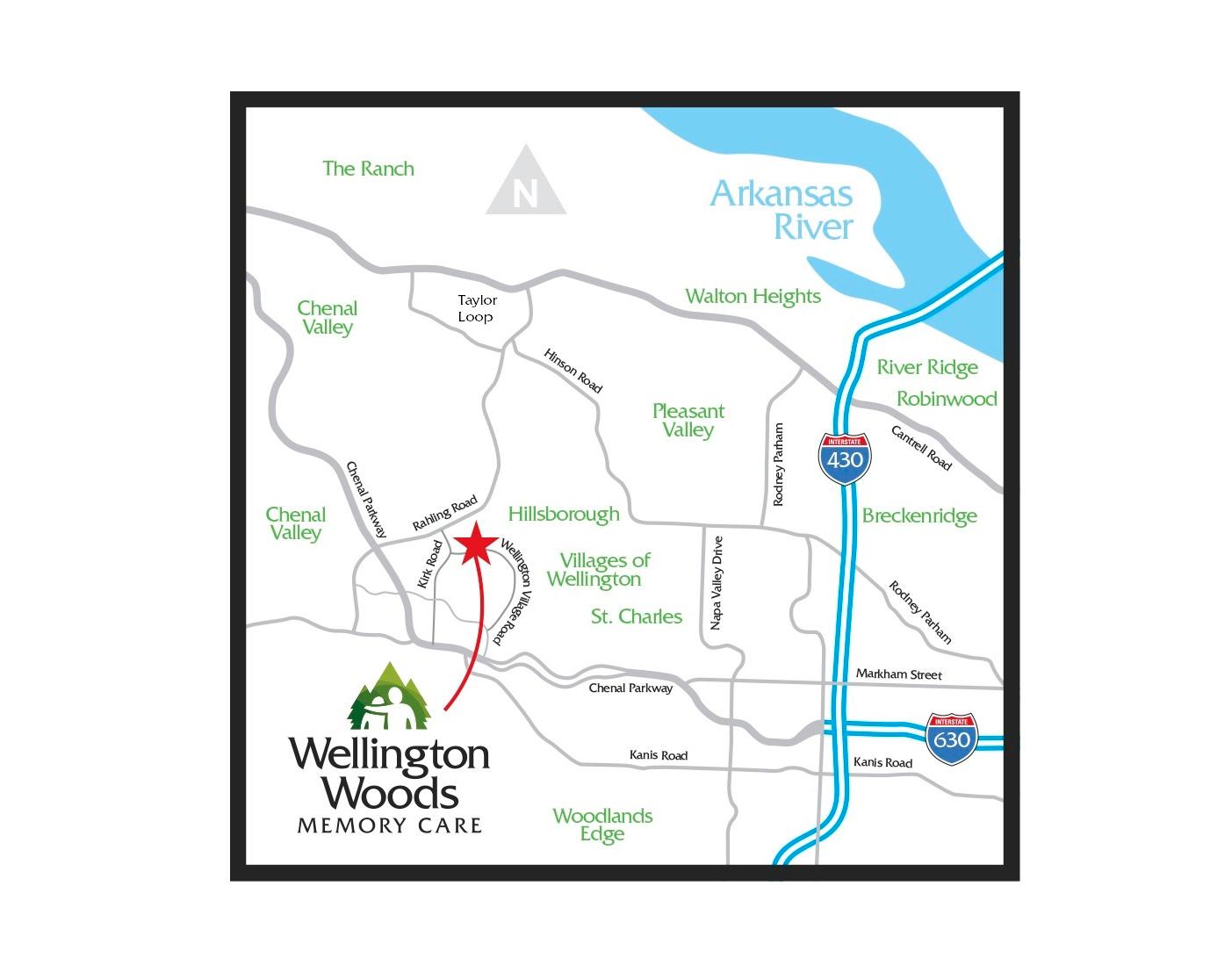 Description of Wellington Woods Memory Care
Wellington Woods Memory Care is a new 16-unit, 20-bed facility that was specifically designed to provide a safe, secure, comfortable and homelike environment for loved ones suffering from cognitive deficits.
Our mission is to bring a higher level of memory care to Central Arkansas. This commitment is evident in every facet of life here: the attentiveness of staff, delicious and nutritional meals, and conspicuous cleanliness. Our team members are extensions of residents' families, alert to opportunities to add personal touches to any aspect of daily life. The social dining experience and wide range of activity options encourage active interaction.
Wellington Woods Memory Care is located in a quiet and easily accessible area in west Little Rock and is nestled near the center of several upscale neighborhoods. It can be reached via the Chenal Parkway or Cantrell Road (Hwy. 10) corridors and is only minutes from I-430. This location allows Wellington Woods to be near medical facilities and other essential services while being an extension of the residential community, providing a home-like setting.
Our onsite chef prepares three delicious meals a day, with snacks and hydration available in between. Opportunities to mingle and interact are engineered into daily life, with visits from family and friends being easily arranged (subject to CDC and ADH guidelines). Our facility houses a salon, for haircuts and styling, pedicures and manicures. TV programming, WIFI access and phones are available at no additional charge, as is a call system to summon staff.
As a memory care facility, we offer specialized activities and exercises designed to help those with cognitive issues. Home health services providing physical, occupational and speech therapy services, as well as many other services, are available on-site. Other on-site services include access to Wellington Woods' medical director, mobile optometric, dental and podiatry services.
Licensed Practical Nurses (LPNs) and Nursing Assistants (NAs) as well as other staff members have received specialized training in caring for residents with cognitive deficits. Together, this team of professionals will develop an individualized plan of care for your loved one.
These caregivers provide a superlative level of compassionate care, getting to know every resident in a personal manner. Staff members strive to check on all residents at least once every two hours to ensure their needs are being met.
Wellington Woods Memory Care Amenities
Photos of Wellington Woods Memory Care
Tour Wellington Woods Memory Care
The best way to get to know a community is by scheduling a tour. See the facilities, meet the staff and residents, and get a feel firsthand what it's like to live at Wellington Woods Memory Care.
Map of Wellington Woods Memory Care
Reviews of Wellington Woods Memory Care