Arizona Nursing Homes
Cost of Arizona Nursing Homes
The average cost of Nursing Homes in Arizona is $192 per day. This is lower than the national average which is $228 per day.
In Arizona there are 170 Nursing Homes. We can help you find the best matches for your needs.
Arizona Nursing Homes by City
Phoenix Area / Valley of the Sun Nursing Homes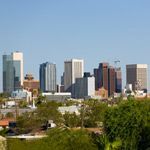 ---
Tucson Area Nursing Homes
---
Other Areas in Arizona
Map of Arizona Nursing Homes
Overview of Arizona Nursing Homes
Home to one of the great natural wonders of the world, The Grand Canyon, and ideally located in America's warm and dry southwest region, Arizona is popular with tourists and residents alike. The landscape of Arizona varies from desert to forested mountains but never fails to impress with its picturesque beauty. It is estimated that the senior population of Arizona will triple in size over the next 40 years. Today's seniors are expected to live longer than ever before and many are choosing to leave colder and wetter states to enjoy the mild winters and bright sunshine of Arizona for their retirement years. In response to this growing demand for high quality senior care, Arizona is providing specialized medical care and nursing facilities for Arizona's aging population. The University of Arizona has created the Arizona Center on Aging to promote education, research and care of seniors. The goal of the center is to work to extend the lifespan and improve the quality of life for seniors. It offers extensive resources on the subject of aging as well a list of geriatricians accepting patients.
Nursing Homes in Arizona Defined
Seniors who require ongoing medical attention, as well as assistance with daily living activities, can find the care they need in an Arizona nursing home. A nursing home may be located within a larger assisted living community or within a hospital itself. This type of care offers a level of medical assistance not generally found within a senior's residence or assisted living center. Nursing homes in Arizona are required to always have a nurse on staff. Individuals who require assistance with issues such as incontinence, wound care or complicated medication requirements will find that their needs are met within a nursing home. Nursing homes generally offer care on both a short-term and long-term basis.
Regulation of Arizona Nursing Homes
Arizona nursing homes, as well as the nursing home administrators themselves, must be licensed by the state and meet specific requirements. Nursing homes in Arizona are inspected approximately once every twelve months to ensure they meet requirements for safety standards, cleanliness and freedom from hazards. They are also inspected to make sure the rights of the residents are being observed. These unannounced visits to the nursing homes in Arizona are conducted by teams of three or four state employees and include interviews with residents and family members to gain a better understanding of life inside the homes.
Paying for Arizona Nursing Homes
Prices vary across the state with the larger cities generally asking somewhat higher rates. Overall, the figures are a little lower than the national average.
Back to Top