Knollwood Pointe Assisted Living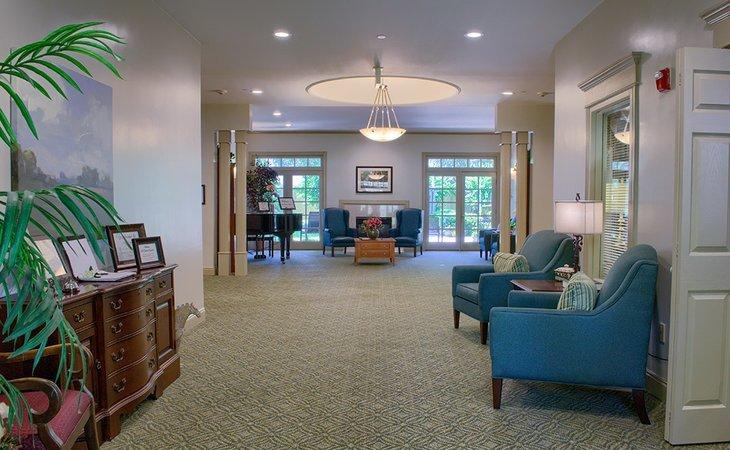 Description of Knollwood Pointe Assisted Living
A leading senior living community in Mobile, Knollwood Pointe caters to senior citizens who are in need of assisted living accommodations, amenities and services. We boast a hospitable, efficient staff and offer some of the most exciting wellness programs for seniors. Our community is conveniently located near shopping centers, I-10 and directly across the street from Infirmary West Hospital.
Knollwood Pointe is one of many retirement apartments owned by the Senior Lifestyle Corporation. We pride ourselves on creating senior living communities that enable seniors to live healthy and fulfilling lives, and our Wellness Everydayâ"¢ program offered at every community is praised by the International Council on Active Aging.
Featured Amenities
Our spacious studio apartments feature private bathrooms with step-in showers, convenient kitchenettes, air conditioning and an emergency call system for added safety and security. All utilities, including cable television, are included as part of the monthly rent.
We encourage a stress-free retirement lifestyle by providing routine housekeeping and maintenance services for all our residents. Meals are also served three times daily in our community dining room. Dishes are prepared fresh each day in our kitchen using wholesome, seasonal ingredients.
Available Services
We emphasize a comprehensive approach to wellness by offering two prominent award-winning programs: Brain Health Universityâ"¢ and Wellness Everydayâ"¢ program. Brain Health Universityâ"¢ focuses on improving one's intellectual health while Wellness Everydayâ"¢ addresses the emotional, occupational, spiritual, social, cognitive and physical health of our residents.
Caring and compassionate staff members are on-site at Knollwood Pointe twenty-four hours a day, seven days a week to provide residents with the supportive services they need to live full and active lives. We are here to offer a helping hand with life's daily activities including eating, bathing and managing medications.
Knollwood Pointe is a superb senior living community for those seeking excellent assisted living services, a hospitality-focused environment and holistically stimulating programs.
Knollwood Pointe Assisted Living Amenities
Photos of Knollwood Pointe Assisted Living
Tour Knollwood Pointe Assisted Living
The best way to get to know a community is by scheduling a tour. See the facilities, meet the staff and residents, and get a feel firsthand what it's like to live at Knollwood Pointe Assisted Living.
Map of Knollwood Pointe Assisted Living
Costs at Knollwood Pointe Assisted Living
Assisted Living
This level of care provides support for those who need help with personal care needs such as cleaning, bathing, and dressing. Residents selecting this level of care are treated to many amenities in a home-like atmosphere, while getting support in their daily lives.
Reviews of Knollwood Pointe Assisted Living