Assisted Living
Memory Care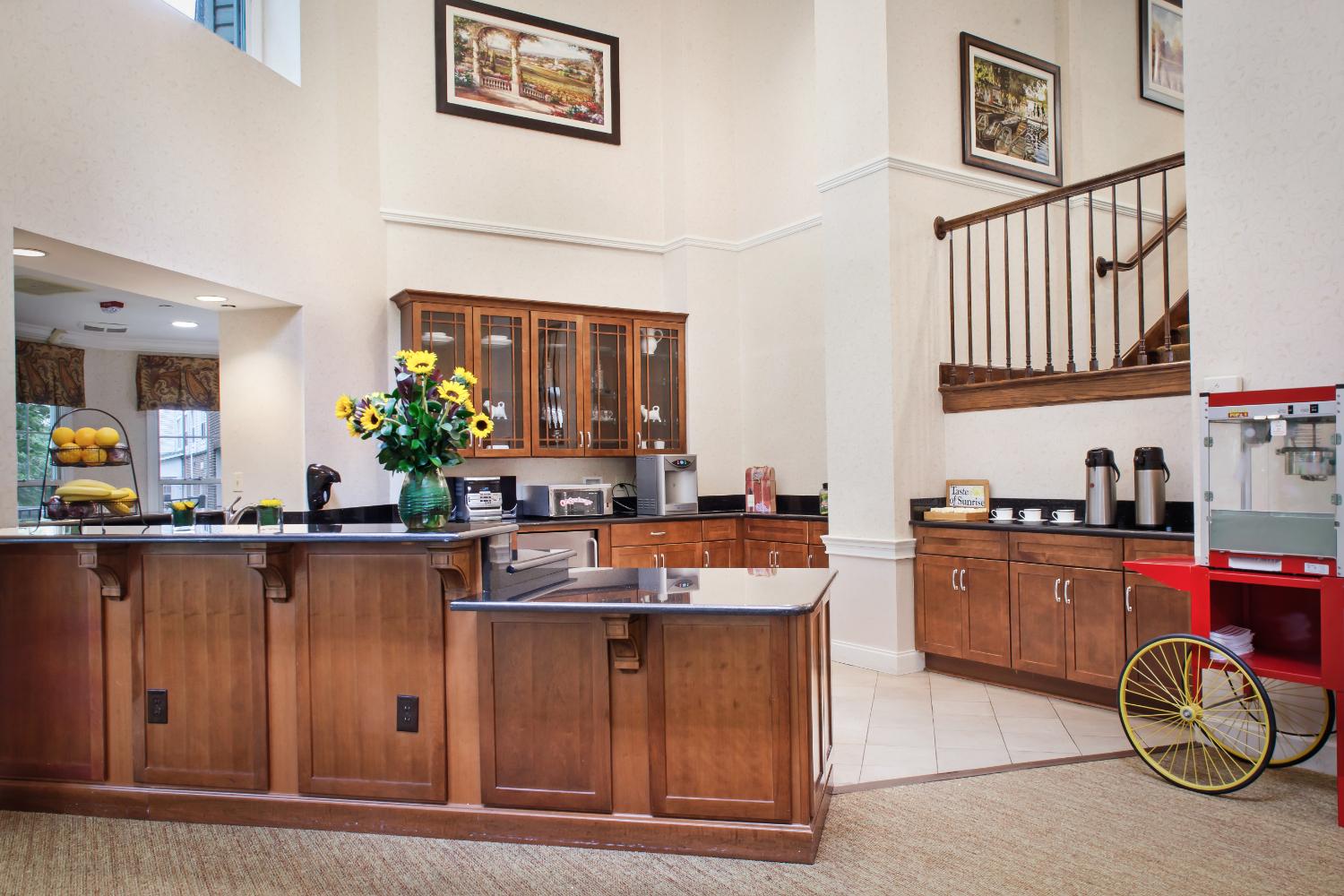 Description of Sunrise at Bluemont Park
Sunrise at Bluemont Park is an elegant retirement community that gives seniors the experience of extraordinary living. We're close to parks, prime shopping and dining. Our hilltop community takes pride in the broad spectrum of services and care options that we provide our assisted living and memory care residents.
Sunrise at Bluemont Park is a proud part of Sunrise Senior Living. At Sunrise, our team believes that true happiness and joy come from serving others, and we've been serving from the heart since 1981.
Featured Amenities
Sunrise at Bluemont Park offers a breathtaking, wooded setting with scenic surrounding views. Our apartments offer assisted living residents a choice of spacious floor plans with full kitchens or kitchenettes. Weekly housekeeping and laundry services further add to a stress-free lifestyle.
Our outdoor patios overlook a large greenbelt and offer shade on warm days. Indoors, residents can enjoy coffee in the bistro or a game of cards in our living room. Our library, arts and crafts room, and exercise center also provide places for fun, independent activities.
Available Services
The staff at Sunrise at Bluemont Park develop personal relationships with residents as well as respect individual needs and preferences. We assist with daily activities like dressing and medication management. Residents enjoy meals in our well-appointed dining room, where we serve fine cuisine made with fresh, local ingredients.
Our acclaimed multi-level approach to memory care engages residents in activities that enhance their independence and helps them feel successful and a part of the community. For all residents, we offer a wide range of organized cultural, educational and fitness programs, including group excursions to local shopping and recreation.
As a senior community that honors choice and independence, Sunrise at Bluemont Park offers a complete range of services in a supportive and welcoming setting.
Sunrise at Bluemont Park Amenities
Photos of Sunrise at Bluemont Park
Tour Sunrise at Bluemont Park
The best way to get to know a community is by scheduling a tour. See the facilities, meet the staff and residents, and get a feel firsthand what it's like to live at Sunrise at Bluemont Park.
Map of Sunrise at Bluemont Park
Costs at Sunrise at Bluemont Park
Assisted Living
This level of care provides support for those who need help with personal care needs such as cleaning, bathing, and dressing. Residents selecting this level of care are treated to many amenities in a home-like atmosphere, while getting support in their daily lives.
Reviews of Sunrise at Bluemont Park