Meadow View Senior Living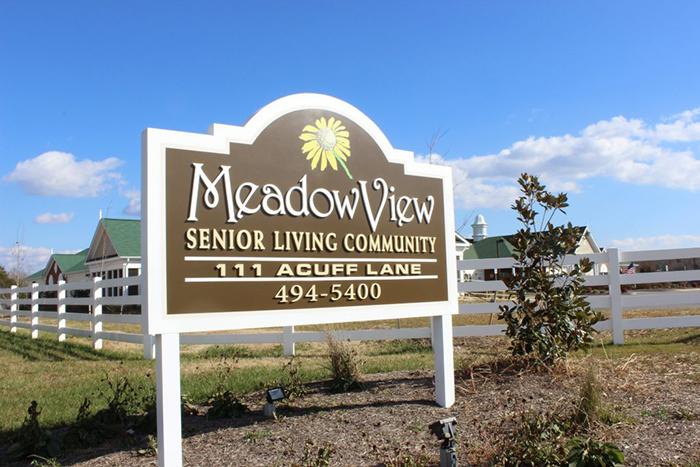 Description of Meadow View Senior Living
Meadow View is a senior living community in Clinton, TN.
Each and every day, our family takes pride in what we do and how we affect the lives of our residents and your loved ones. Our hope is that you experience the finest of care and community as you start a new chapter of life at Meadow View. It is through LOVE, devotion, and true compassion that sets us apart, and it is our intention to ensure every resident feels at home at Meadow View.
Our approach is unwavering, and at our core, you will find our atmosphere supports the spiritual, emotional, social, physical, and intellectual needs of every resident. Meadow View is designed specifically for seniors to live their life to the fullest. Comfort, companionship, and all the amenities of home…you can look forward to experiencing all of these and more at Meadow View!
An Active, Joyous Lifestyle
Social activities are offered and encouraged for residents on a daily basis. It is our goal to provide joy and fulfillment, which is why our activities and outings are centered around resident interests and new experiences. Residents are free to choose to participate in the planned activities or just relax the day away with family and friends.
Personalized Care
Everyone at Meadow View believes in providing a safe and secure environment for each of our residents that also promotes dignity and respect. Meadow View offers personalized care and assistance for every resident. Our team makes it a priority to understand every resident's needs and provide the best care and support. Assistance with ADLs (activities of daily living) includes bathing, dressing, grooming, medication reminders, hygiene, etc.
Home-style Meals
Offering three meals a day, Meadow View provides homemade cooking in a restaurant style dining area. Our team works with a registered dietitian to ensure proper nutrition is provided to our residents. Meals seem to offer the best conversations and social interaction, especially over a warm homemade apple pie!
Services & Amenities:
Assisted Living
Assistance with Personal Needs
24 Hour Building Security
24 Hour Emergency Call System
Spacious Residential Apartments
Walk-in closets, kitchenettes, and covered porches
Optional Floor Plans
Full-range of Social Activities
Full Dining Services
Housekeeping, Laundry, and Maintenance
Beauty/Barber Shop
Thank you for your interest at Meadow View Senior Living. Please give us a call to schedule a free tour.
Meadow View Senior Living Amenities
Photos of Meadow View Senior Living
Tour Meadow View Senior Living
The best way to get to know a community is by scheduling a tour. See the facilities, meet the staff and residents, and get a feel firsthand what it's like to live at Meadow View Senior Living.
Map of Meadow View Senior Living
Costs at Meadow View Senior Living
Assisted Living
This level of care provides support for those who need help with personal care needs such as cleaning, bathing, and dressing. Residents selecting this level of care are treated to many amenities in a home-like atmosphere, while getting support in their daily lives.
Reviews of Meadow View Senior Living