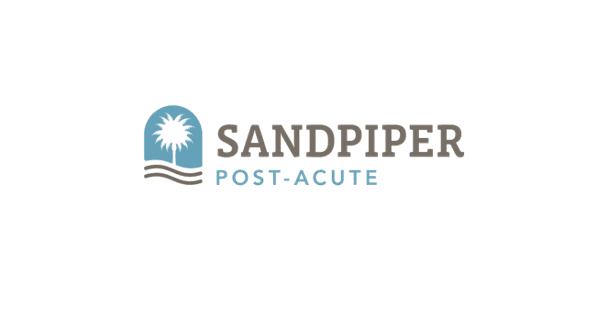 Description of Sandpiper Post-Acute
Sandpiper Post-Acute is located in Mount Pleasant, South Carolina. We are your choice for rehabilitation and long-term care in the Greater Charleston area. Our 176-bed rehabilitation and skilled nursing facility have been serving our community for over 40 years.
At Sandpiper Post-Acute, we have our own certified in-house therapy team to treat you more efficiently and timely. With televisions in each of our rehabilitation rooms, you can relax and enjoy a favorite movie or TV show while you rest from your therapy. If you are looking to be active, you can enjoy some of our scheduled daily activities. Your comfort is our priority!
Sandpiper proudly offers:
Physical Therapy
Occupational Therapy
Speech Therapy
Medical Nutrition Therapy
VitalStim Therapy Certified
Geriatric Specialist Physical Therapy
Additional services:
Onsite Medical Director coordinates and improves medical services
Director of Nursing oversees all aspects of healthcare within the facility
Individualized resident care plan treatments
IV therapy
Wound care
Enteral feeding program
Catheter care
Ostomy Care
Off-site dialysis
Ileostomy Care
Nutrition & hydration programs
Medication management & education
Diabetic management & education
Restorative nursing
Pain management
Post-hospital extended care
Hospice/Respite/GIP services
Bowel & bladder programs
Model environment for nurse training
Family education
In-house, ongoing continued learning courses
Psychologist
Audiology Services
On staff registered dietitian
Laboratory testing and X-rays
Not only is your recovery important to us but so is your stay! We strive to make your stay as pleasant as possible. Expect to enjoy our beauty salon, housekeeping services, and person-centered activities such as movie nights and one on one sessions for those who are room-bound. You are encouraged to bring the comforts of home with you for your stay, or simply let us know how we can help you. Keeping your room comfortable so you feel at home is our goal.
Call us today to speak to one of our friendly professionals.
Sandpiper Post-Acute Amenities
Photos of Sandpiper Post-Acute
Tour Sandpiper Post-Acute
The best way to get to know a community is by scheduling a tour. See the facilities, meet the staff and residents, and get a feel firsthand what it's like to live at Sandpiper Post-Acute.
Map of Sandpiper Post-Acute
Costs at Sandpiper Post-Acute
Nursing Homes
Nursing homes, also called skilled nursing facilities or convalescent homes, serve anyone who requires preventive, therapeutic and/or rehabilitative nursing care. Nursing homes provide residential care for people who don't require hospitalization but need 24-hour care they can't get at home. Some nursing homes are set up like a hospital with staff members providing medical care. Nursing homes also provide a wide range of other services.
Reviews of Sandpiper Post-Acute