Washington Retirement Communities
Washington Retirement Communities by City
Seattle-Tacoma/Puget Sound Area Retirement Communities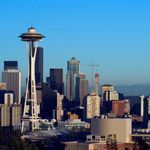 ---
Other Areas in Washington
Map of Washington Retirement Communities
Overview of Washington Retirement Communities
Whether whale watching off the cost of the San Juan Islands, enjoying a fishing trip to Lake Chelan or golfing at one of the state's many fairways, active retirees in Washington can take advantage of the many fine outdoor experiences the Pacific Northwest has to offer.
Residents of Central Washington retirement communities are surrounded by vineyards in the state's Yakima Valley wine region and those who still enjoy driving will revel in a tour of the Washington's scenic byways. Seniors looking for a more urban retirement experience will appreciate the state's many shopping and outlet malls, casinos, sports teams, museums and performing arts groups.
Washington State Retirement Amenities
Golf Courses (Public & Private): 292
National Parks: 3
National Monuments: 2
National Forests: 9
State Parks: 100+
Wineries: 650+
Breweries: 42
Casinos: 47
Museums: 288
Performing Arts Groups: 120
Retirement Communities in Washington Defined
The State of Washington defines a retirement community as any residential housing that caters exclusively to mature adults, typically 55 years of age or older. Residents of Washington retirement communities must be in relatively good health and be able to receive medical or personal care either off-site or by a third-party as staff at the community are not responsible for the health and safety of residents.
Unlike nursing homes, assisted living facilities and care homes, retirement communities are not licensed or inspected by the state. You can find facilities that offer skilled nursing care in Washington in our Nursing Homes category and homes that provide assisted living care in our Assisted Living and Care Homes categories.
Cost of Retirement Community Living in Washington
Washington is one of just a few states in the country that do not levy a tax on personal income. However, it does have comparably sales tax rates that equate to about 8-9% depending on the local city and county tax rates. The state also charges additional taxes for gasoline, cigarettes and alcoholic beverages.
Overall, residents of most Washington retirement communities enjoy a cost of living that is lower than the national average, with the exception of seniors living in the greater Puget Sound area. Below is a table showing the cost of living index for major urban areas in Washington state. A score of 100 represents the national average cost of living.
Utility costs in Washington State are also significantly lower than the national average due to the operation of the Grand Coulee Dam on Washington's Columbia River. Washington is the leading producer of hydroelectric power, producing almost a third of the country's net electricity.
Back to Top