Washington Independent Living
Cost of Washington Independent Living
The average cost of Independent Living in Washington is $2,288 per month. This is higher than the national average which is $1,729 per month.
In Washington there are 207 Independent Living Communities. We can help you find the best matches for your needs.
Washington Independent Living Communities by City
Seattle-Tacoma/Puget Sound Area Independent Living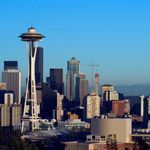 ---
Other Areas in Washington
Map of Washington Independent Living Communities
Overview of Washington Independent Living
Nicknamed the Evergreen State for the area's many towering forests, the State of Washington has much more to offer retirees than just a tree-lined landscape. With a geography that ranges from ocean beaches and deep rainforests to stunning mountain ranges and even semi-arid environments, seniors who choose independent living in Washington enjoy a varied choice of climates. Just over 11% of the population of Washington state is 65 and older with approximately 60% living in the greater Seattle metropolitan area. With nearly 7 million residents, Washington is the 13th most populous state in the country and the 2nd most populated state on the West Coast after California.
Independent Living in Washington Defined
Washington independent living communities often resemble apartment buildings where residents live in single units and are responsible for their own schedule and care. Professional staff are available on a daily basis and it is not uncommon for
independent living communities in Washington to offer landscaping, housekeeping, meals and laundry services. Some communities even have their own:
Hair salons
Libraries
Restaurants
Gyms
Transportation
Residents of independent living should be in good health and not require constant medical monitoring or care. Should a senior need assistance with the activities of daily living such as bathing, dressing or eating, they would need to move to an assisted living facility, which has 24-hour staffing to provide that level of personal care.
Seniors challenged by Alzheimer's or dementia would be better served in a memory care community, which is designed with safety features and other amenities to meet the unique needs of residents challenged by memory loss. Seniors with serious medical conditions, such as stroke or Parkinson's, that require the on-going care of doctors and nurses, would most likely be placed in a nursing home.
You can find other types of available senior care in Washington in our Assisted Living, Memory Care and Nursing Homes categories.
Cost of Independent Living in Washington
Washington is one of only seven states in the nation that does not have a personal income tax. However, it has relatively high state and local sales taxes that equate to about 8-9% depending on geographic area. The state also incurs additional taxes on gasoline, cigarettes and alcoholic beverages. This is in stark contrast to neighboring Oregon, which has no sales tax, and British Columbia, Canada which has a fluctuating exchange rate and the opportunity for duty-free shopping.
Although Washington residents have the 10th highest per capita personal income in the nation ($52,403 annually in 2009), they enjoy a cost of living that is comparable or even slightly below the national average. The overall cost of living, including housing, transportation, and goods and services, is highest in the greater Puget Sound area. The cost of living is much lower in Eastern and Central Washington.
Utility costs in all areas of Washington State are also significantly lower than the national average due to the presence of the Grand Coulee Dam on Washington's Columbia River. The state is the leading producer of hydroelectric power, producing nearly 30% of the country's net electricity.
Back to Top