Utah Independent Living
Cost of Utah Independent Living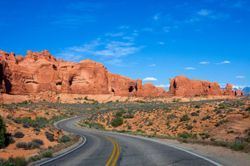 The average cost of Independent Living in Utah is $1,806 per month. This is higher than the national average which is $1,729 per month.
In Utah there are 44 Independent Living Communities. We can help you find the best matches for your needs.
Utah Independent Living Communities by City
Salt Lake City Metropolitan Area Independent Living
---
Other Areas in Utah
Map of Utah Independent Living Communities
Utah Independent Living Overview
Utah offers a wide variety of activities for those interested in both the outdoors and in cultural activities. The state boasts five national parks in addition to Monument Valley, making Utah independent living ideal for the outdoor enthusiast. There are a wide variety of ski resorts and golf courses. Park City offers beautiful scenic byways in northern Utah while St. George offers a milder climate for those needing warmer temperatures. Residents can enjoy historic Temple Square in downtown Salt Lake City, in addition to shopping at either of the two modern and convenient outdoor malls. Seasonal events include the Utah Shakespeare Festival in Southern Utah, in addition to 30 festivals held throughout the year all over the state.
Independent Living in Utah Defined
Retirees who choose independent living must be in good health and able to care for themselves without additional assistance. Seniors who need day-to-day assistance with life's daily activities, such as getting around, bathing or taking medications, may need to consider an assisted living facility that provides personal care services. You can find Utah assisted living facilities in our
Assisted Living
category. Seniors with serious health conditions who require 24-hour care and more extensive medical observation may want to consider a nursing home that provides skilled nursing care. You can find skilled nursing facilities in Utah in our
Nursing Homes
category.
Back to Top