Rhode Island Nursing Homes
Cost of Rhode Island Nursing Homes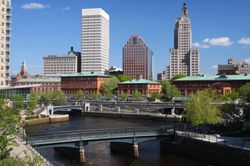 The average cost of Nursing Homes in Rhode Island is $255 per day. This is higher than the national average which is $228 per day.
In Rhode Island there are 90 Nursing Homes. We can help you find the best matches for your needs.
Rhode Island Nursing Homes by City
Providence Area Nursing Homes
---
Map of Rhode Island Nursing Homes
Overview of Rhode Island Nursing Homes
Rhode Island is a state with gorgeous scenery, a fact the state has capitalized on by developing some exceptional golf courses, historical trails and bird watching havens. They also have strong laws protecting the rights of residents living in their nursing homes. This isn't surprising given the focus and reputation the state has for providing quality healthcare and support services to its citizens. Rhode Island nursing homes will be well served for medical needs because the state is home to the Providence VA Medical Center, one of the best VA facilities on the east coast.
Nursing Homes in Rhode Island Defined
Within Rhode Island, nursing facilities are simply defined as any place with provides 24-hour in-resident nursing, therapeutic, restorative or preventative and supporting nursing services for two or more unrelated residents. They make no special distinction beyond that except for defining units specially adapted to care for dementia and Alzheimer's patients. These facilities, independent or within existing nursing homes, provide increased staffing, therapeutic activities custom designed for dementia patients and additional staff training. Assisted living facilities are notably held to different standards and regulations in Rhode Island than nursing homes.
Regulation of Rhode Island Nursing Homes
Nursing homes within Rhode Island are bound by strict laws requiring mandating that they are licensed and following various standards designed to protect the health and freedom of the residents. In these facilities, all of the staff must have a clean background with knowledge and training appropriate to their duties and undergo continuing education on an ongoing basis to ensure that residents get the best care. Some of the subjects include the control of infection, confidentiality of resident information, rights of residents, and other areas related to patient care. Further, a quality control committee is mandated which requires the presence of a good mix of the staff with knowledge of all aspects of resident care to ensure the facility is meeting and exceeding state standards across the board. Resident rights are also protected by law. These rights include the right to privacy, confidentiality, dignity, respect, consideration, and fair treatment without any form of discrimination. In practical terms, this means residents can expect to have the freedom to control their own financial aspects, social time including religious or community events, visits with whomever they choose, and full control over outside purchases. They can also expect to have all medical decisions explained fully, and be able to have full control over medical decisions. Residents are able to have their pain assessed regularly if they require it and should feel assured that they will never be restrained through chemical or physical restraints (though physical restraints may be used in the event of a medical emergency).
Paying for Nursing Homes in Rhode Island
While prices seem high, nursing homes provide a level of quality care unmatched in most other environments. There are programs that can help defray the cost. Medicaid offers a number of programs in Rhode Island, including the Medical Assistance and Paying for Nursing Home Care. There is also the Alliance for Better Long Term Care and the Rhode Island Health Care Association, which can provide information and resources.
Back to Top