Oklahoma Memory Care
Cost of Oklahoma Memory Care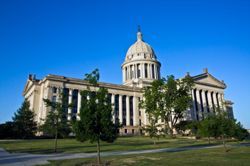 The average cost of Memory Care in Oklahoma is $3,862 per month. This is higher than the national average which is $2,958 per month.
In Oklahoma there are 51 Memory Care Communities. We can help you find the best matches for your needs.
Oklahoma Memory Care Communities by City
Oklahoma City Area Memory Care
---
Tulsa/Green Country Memory Care
---
Other Areas in Oklahoma
Map of Oklahoma Memory Care Communities
Overview of Oklahoma Memory Care
Oklahoma memory care is an attractive choice for seniors who have been diagnosed with Alzheimer's Disease or other forms of dementia. Approximately 74,000 people in Oklahoma alone have been diagnosed with dementia. The
Oklahoma Department of Human Services Aging Services Division
provides seniors and their families with advice and resources on senior care. While the Division's website offers a number of resources, applications for services and referrals, the Division itself provides adult day services, education and contact information for services in the community. The
Alzheimer's Association Oklahoma and Arkansas Chapter
also provides assistance for local seniors with dementia who are interested in participating in clinical trials.
Memory Care in Oklahoma Defined
Alzheimer's is a progressive disease that causes increasing memory and ability loss as the person afflicted by the condition proceeds through the early, mid and late stages. In the first stage, seniors might find that in-home services or adult day care provide sufficient care to meet their needs. As the disease becomes more advanced, however, residential assisted living communities and eventually skilled nursing units might be more appropriate. Communities that offer memory care in Oklahoma are able to provide room, board, socialization, 24-hour supervision, assistance with life's daily activities and memory-stimulating therapies.
Back to Top