Oklahoma Assisted Living
Cost of Oklahoma Assisted Living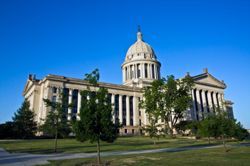 The average cost of Assisted Living in Oklahoma is $3,345 per month. This is higher than the national average which is $2,877 per month.
In Oklahoma there are 164 Assisted Living Facilities. We can help you find the best matches for your needs.
Oklahoma Assisted Living Facilities by City
Oklahoma City Area Assisted Living
---
Tulsa/Green Country Assisted Living
---
Other Areas in Oklahoma
Map of Oklahoma Assisted Living Facilities
Paying for Assisted Living in Oklahoma
The housing and service costs for assisted living in Oklahoma are 100% privately paid. Oklahoma residents often pay for their retirement housing with long-term care insurance or personal savings. No Medicare or Medicaid discounts are available. Some assisted living homes in Oklahoma charge a flat rate, while others may either assess their fee on the basis of each senior's level of care or provide a menu of services from which to select.
Overview of Oklahoma Assisted Living
According to Rodgers and Hammerstein's popular song, Oklahoma is a place with
"Plen'y of room to swing a rope! Plen'y of heart and plen'y of hope!"
The state name means "red people" in the Choctaw language, and life in Oklahoma is still interlaced with Native American and cowboy charm. Despite its reputation for sweeping plains and big, open skies, this state also contains four beautiful mountain ranges: Ouachita, Arbuckle, Wichita and Ozark. The state's average annual temperature is a pleasant 60.5 degrees, and residents of Oklahoma assisted living will see their dollars stretch further while residing in the state with the lowest cost of living in the country.
Assisted Living in Oklahoma Defined
Within Oklahoma statute Title 63, an "assisted living center" is defined as any home or establishment that provides services to two or more residents who are unrelated to the operator. These individuals may seek assistance with personal care or medical supervision either by choice or by necessity. Another term used to classify establishments of assisted living in Oklahoma is "continuum of care facility." This type of care unit is similar to a traditional nursing home in the sense that the staff are qualified to provide a higher level of medical attention than they could in an assisted living center. A continuum of care facility must offer extensive nursing services in addition to either assisted living and/or adult day care. This type of set-up allows seniors to transition easily from occasional assistance to permanent residency, and then advance to receiving more extensive care once needed—all in the same familiar facility.
Regulation of Oklahoma Assisted Living Facilities
Assisted living in Oklahoma is licensed under the
Continuum Of Care And Assisted Living Act
. The facilities are monitored by the
Oklahoma State Board of Health
. Assisted living centers and continuum of care facilities are subject to random inspections at least once every 15-month period, but these unannounced visits usually occur more frequently. A small selection of the many requirements that must be met in order for an Oklahoma assisted living facility to retain its licensure are:
Each client must have a valid Residency Agreement on file.
All centers must employ the services of both a nurse and a dietician.
Staff must be trained to provide quality socialization and activities to the residents.
A minimum number of staff are required to remain on site and awake.
Water used for bathing, cooking and laundry must be maintained at specified temperatures.
Back to Top