Michigan Independent Living
Cost of Michigan Independent Living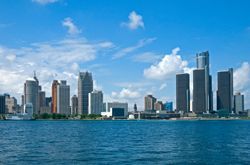 The average cost of Independent Living in Michigan is $2,190 per month. This is higher than the national average which is $1,729 per month.
In Michigan there are 246 Independent Living Communities. We can help you find the best matches for your needs.
Michigan Independent Living Communities by City
Metro Detroit Independent Living
---
Other Areas in Michigan
Map of Michigan Independent Living Communities
Overview of Michigan Independent Living
As one of the nature rich states in America, Michigan has a history that stretches from the early Native Americans, through 18th century French exploration, and a dazzling industrial era. It is home numerous several lakes and bays, with no resident being more than 10km away from a body of water. The state's beauty is perfectly complimented by its continental climate, which ranges from traditionally snowy winters to baking summers. With just over 20% of the population being in the 55+ age bracket, Michigan independent living is ideally suited for those who never want to miss an opportunity to have fun, or relax. Those who live there are spoiled for choice in terms of both historical and modern attractions. From amusement and water parks, to battlegrounds and lighthouses, Michigan has something to offer everyone.
Independent Living in Michigan Defined
Michigan independent living is designed for those who are over the age of 55, require a senior living solution,
but want to retain their sense of independence. Unlike
Assisted Living
solutions, independent living in Michigan focuses on providing convenient services such as transportation and housekeeping, rather than help with daily activities like dressing or personal hygiene. Residents can come and go as they please, and enjoy access to facilities like kitchenettes in their apartments. Residents typically do not require 24/7 access to medical care, but would like the option of calling someone for help, if necessary. By taking advantage of the Michigan independent living facilities available, residents can enjoy everything the state has to offer.
Back to Top