Michigan Assisted Living
Cost of Michigan Assisted Living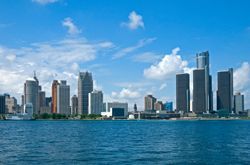 The average cost of Assisted Living in Michigan is $3,250 per month. This is higher than the national average which is $2,877 per month.
In Michigan there are 800 Assisted Living Facilities. We can help you find the best matches for your needs.
Michigan Assisted Living Facilities by City
Metro Detroit Assisted Living
---
Other Areas in Michigan
Map of Michigan Assisted Living Facilities
Paying for Assisted Living in Michigan
The majority of residents pay for services privately or with long-term care insurance. Government funding is available in some facilities, but there are very strict requirements. Medicare does not cover assisted living costs, but in some instances Medicaid will be accepted.
Overview of Michigan Assisted Living
Bordered by four of the five great lakes, it is no wonder that Michigan, whose official nickname is "The Wolverine State," is often referred to as "The Great Lake State." Michigan's borders encompass more than 11,000 inland lakes where visitors and residents alike enjoy fishing, boating, swimming, camping and hiking. With a population of almost 10 million people, Michigan is the eighth-most populous state in the country and the birthplace of former U.S. President Gerald Ford. Whether taking a tour of the famous Henry Ford Museum or wading into the waters of a scenic freshwater lake, assisted living in Michigan has something for everybody.
Assisted Living in Michigan Defined
"Assisted living" is not a legally defined term in Michigan. As such, assisted living in Michigan is typically provided by one of two types of facilities:
Homes for the Aged (HFAs)
Adult Foster Care Homes (AFCs)
While not legally referred to as an assisted living facility, HFAs and AFCs are not nursing homes. Both types of facilities offer only daily assistance and supervision to residents, rather than extensive medical or skilled nursing care. Both HFAs and AFCs offer personal care services, which include assistance or supervision with activities of daily living, such as:
Bathing
Dressing
Grooming
Walking
Administration of medication
The main difference between the two facilities is that HFAs require residents to be at least 60 years of age or older, whereas AFCs provide personal care services to any adult. Another key difference is size. A Home for the Aged requires that there be 21 or more residents over 60 years of age, while AFCs house 20 or less residents. Adult Foster Care Homes are typically divided into:
Family Homes for 1-6 people
Small Group Homes for 1-12 people
Large Group Homes for 13-20 people
You can find
Adult Foster Care Homes
in our
Care Homes
category.
Regulation of Michigan Assisted Living Facilities
Assisted living in Michigan is regulated and licensed by the 
Michigan Department of Human Services, Bureau of Children and Adult Licensing
. Before applying for a license, every AFC and HFA must prove that it is in compliance with state fire safety laws and provide a criminal history report for all employees. A facility must be licensed as an AFC facility if it provides personal care services and housing to 20 or fewer residents, or be licensed as a HFA if it provides personal care and housing to 21 or more residents who are all 60 years of age or older. Every facility must be inspected by the Bureau of Children and Adult licensing before being issued a license, and may inspect the facility again in the case that a complaint is filed by a resident.
Back to Top