Need help? Have questions? Call 1-800-748-4024
Maryland Retirement Communities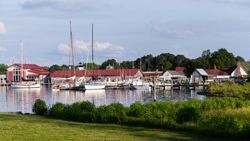 In Maryland there are 71 Retirement Communities. We can help you find the best matches for your needs.
Map of Maryland Retirement Communities
Map of Maryland Retirement Communities
Back to top
Zoom in using the plus (+) sign to see greater detail
Back to top
Roughly 12.5 percent of the Maryland population is past the age of retirement. The state provides a rich social culture for residents of Maryland retirement communities. Maryland has a rich historical culture with Civil War memorial sites, African American cultural museums and scenic landmarks which make excellent destinations for retirees interested in day trips. Those with culinary interests can wander through farmer's markets, partake in catch-of-the-day fish trade or spend time wine tasting at the vineyards along the coast. Retirees with an interest in outdoor recreational sports can engage in golfing, hiking, kayaking, fishing and much more.
Back to top
According to the Maryland Department of Aging a retirement community must provide adults over the age of 55 a secure environment with social opportunities. Mature adults residing in an assisted living environment or a nursing home often have to share a room, and must be signed in or out by a family member to leave the premises. Those residing in a Maryland retirement communities have the freedom to come and go as they please, and get to live in a home of their own. Typically, senior retirement communities consist of separate single family dwellings, or apartments with a central area for social gathering. This allows residents all the privacy and independence of remaining in their own home with the peer interaction and communal living benefits common to nursing facilities
Retirement Communities
There are Retirement Communities options:
Please select a city to narrow your search