Maryland Memory Care
Cost of Maryland Memory Care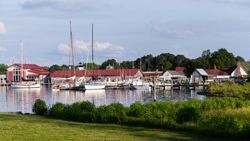 The average cost of Memory Care in Maryland is $4,822 per month. This is higher than the national average which is $2,958 per month.
In Maryland there are 107 Memory Care Communities. We can help you find the best matches for your needs.
Maryland Memory Care Communities by City
Baltimore Area / Central Maryland Memory Care
---
Washington Metropolitan Area Memory Care
---
Other Areas in Maryland
Map of Maryland Memory Care Communities
Overview of Maryland Memory Care
The state of Maryland features numerous senior care facilities that specialize in providing care for seniors with Alzheimer's disease, dementia and other memory-related ailments. These facilities are staffed by highly trained and certified care specialists with years of experience providing memory care to seniors in need. As with other elder care facilities, communities specializing in memory care are overseen by the
Maryland Department of Aging
. The Department of Aging also offers caregivers a variety of resources that can be put to good use in improving the care of seniors with memory care needs, and is continually making available new information in regards to senior care.
Memory Care in Maryland Defined
Memory-related ailments such as dementia and Alzheimer's disease often rob seniors of their memory, cognitive skills and their ability to freely function independently. Memory care communities offer comprehensive care solutions that seek to preserve the dignity of senior residents while treating them with an exceptional amount of compassion. Most facilities that offer assisted living also serve memory care residents and feature safe and secure areas within the community that prevent seniors from wandering away and help reduce confusion. Trained professionals work with residents each day, creating opportunities for socialization while providing assistance with day-to-day activities. Many assisted living communities feature accommodations for couples who want to remain together in spite of their health limitations.
Back to Top