Maryland Independent Living
Cost of Maryland Independent Living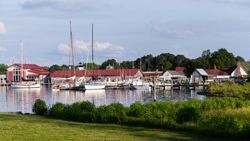 The average cost of Independent Living in Maryland is $3,238 per month. This is higher than the national average which is $1,729 per month.
In Maryland there are 151 Independent Living Communities. We can help you find the best matches for your needs.
Maryland Independent Living Communities by City
Baltimore Area / Central Maryland Independent Living
---
Washington Metropolitan Area Independent Living
---
Other Areas in Maryland
Map of Maryland Independent Living Communities
Overview on Maryland Independent Living
Maryland independent living offers seniors a wide variety of opportunities to enjoy some of the most beautiful topography in America, including mountains, lakes, waterfalls, and sand dunes. Close proximity to Washington D.C. makes for a bustling, educated population, and Maryland boasts some of the most environmentally friendly energy consumption and legislation. The varied climate makes for distinct seasons throughout the year, while milder winters can be found on the eastern side of the state. One of the best attributes of Maryland living is the high quality seafood, especially blue crab and oysters, as well as the bounty of outdoor recreational opportunities that include sightseeing along the coast, visiting wineries, golfing and more. Seniors over 65 represent over 12% of the population of this beautiful state.
Independent Living in Maryland Defined
Maryland independent living facilities provide able-bodied retirees with a community of like-minded and active individuals who want to enjoy their golden years.
Many services are offered for a reasonable monthly fee, and these may include meals, transportation and housekeeping, as well as recreational options both on and off-site. Independent living is appropriate for seniors who can manage their own daily schedules, and do not require 24-hour assistance. Guests who require medication supervision, routine doctor or nursing care, or suffer from memory problems or debilitating conditions should research Maryland
Memory Care
facilities or
Nursing Homes
on our site for more specialized and intensive help.
Back to Top