Delaware Memory Care
Cost of Delaware Memory Care
The average cost of Memory Care in Delaware is $4,990 per month. This is higher than the national average which is $2,958 per month.
In Delaware there are 0 Memory Care Communities. We can help you find the best matches for your needs.
Delaware Memory Care Communities by City
Other Areas in Delaware
Map of Delaware Memory Care Communities
Overview of Delaware Memory Care
The
Delaware Division of Services for Aging and Adults with Physical Disabilities (DSAAPD)
is responsible for providing state-funded services and programs that benefit seniors. Delaware offers its own low-cost memory care service in the form of a state-funded, non-resident day program that addresses the effects of Alzheimer's, dementia and other memory related ailments and mental impairments. DSAAPD also provides an amazing wealth of information on home and community-based senior care services, including memory care.
Memory Care in Delaware Defined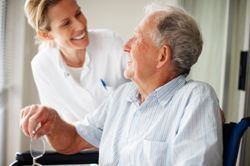 Delaware memory care communities provide many of the same amenities as an assisted living community. However, memory care is provided in a more intimate setting with a kind and caring staff trained to deal with the special needs of senior residents with Alzheimer's and dementia. While there are stand-alone communities that specifically deal with Alzheimer's residents, memory care is also available alongside other assisted living services. Most memory care facilities offer a number of safeguards to help comfort and protect senior residents who become easily agitated or confused in their new surroundings, including increased security and 24-hour access to immediate care.
Back to Top