Arkansas Memory Care
Cost of Arkansas Memory Care
The average cost of Memory Care in Arkansas is $3,792 per month. This is higher than the national average which is $2,958 per month.
In Arkansas there are 14 Memory Care Communities. We can help you find the best matches for your needs.
Arkansas Memory Care Communities by City
Other Areas in Arkansas
Map of Arkansas Memory Care Communities
Overview of Arkansas Memory Care
Beyond the usual amenities available in most senior care facilities, Arkansas memory care communities provide unique services specially designed for those suffering from Alzheimer's and other forms of dementia. Some of these features include color-coded hallways for easy navigation, safe wandering paths, graphic signs, visual cues, and secure entrances and exits to prevent accidental harm. Additionally, the University of
Arkansas for Medical Sciences Donald W. Reynolds Institute on Aging
is at the forefront of Alzheimer's research. The state of Arkansas provides financial incentives for those caring for sufferers of Alzheimer's, including the Family Assistance Program grant and the
Family Caregiver Support grant
to defray the costs of caring for seniors requiring special attention.
Memory Care in Arkansas Defined
One size does not fit all when it comes to senior care. There is a spectrum of options available when considering the right Arkansas senior living community. Independent living communities provide minimal staff supervision and a variety of amenities for the elderly, and are among the most affordable retirement living options. With little to no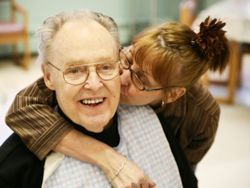 direct care provided, independent living communities are typically not suitable to seniors with memory loss. Assisted living facilities provide help with the day-to-day necessities of life, but still offer autonomy for active seniors. Care is always close at hand, but residents maintain a degree of independence greater than that of nursing home patients. Many assisted living facilities offer memory care as part of their services, sometimes in separate, secured areas of their community. Care homes are similar to assisted living facilities, but provide smaller, more focused care to less than 10 elderly residents. These communities function as a sort of middle option for those desiring the intimacy of a home environment with the full services of assisted living. For those who are no longer able to care for themselves, a nursing home may be the best option. Specially trained nurses and staff assist residents with daily necessities and medical care while providing a nurturing environment monitored 24 hours a day for patient safety and well-being.
Back to Top