Arizona Independent Living
Cost of Arizona Independent Living
The average cost of Independent Living in Arizona is $2,382 per month. This is higher than the national average which is $1,729 per month.
In Arizona there are 159 Independent Living Communities. We can help you find the best matches for your needs.
Arizona Independent Living Communities by City
Phoenix Area / Valley of the Sun Independent Living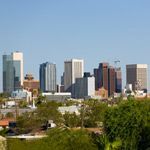 ---
Tucson Area Independent Living
---
Other Areas in Arizona
Map of Arizona Independent Living Communities
Overview of Arizona Independent Living
About 21% of Arizona's population is composed of adults age 55 years and above, so there is no question you'll be surrounded by people just like you at an Arizona independent living community. Plus, more than 93% of the year is full of healthy sunshine with 340 sunny days per year on average. This allows you the freedom to enjoy outdoor activities all year round. Contrary to what others think, Arizona is not all about cactus and desert. Nearly 30% of Arizona is forest. It is actually one of the most diverse locations in the country. The central part of the state, Colorado Plateau, is deeply forested and good for hiking, hunting and camping. Recreational activities also await you. There are great golf courses, biking trails, shopping centers and amazing dining spots throughout the state.
Independent Living in Arizona Defined
Independent living is one of the most preferred choices among active and healthy senior citizens. This is the primary reason Arizona independent living communities continue to develop their standards for senior care to render quality service for their retirees. Independent living does not include personal care services, such as help with bathing, dressing or eating, but for one convenient monthly fee, seniors will get to enjoy community housing and even services such as transportation, meals, housekeeping and social activities. Seniors who need support with life's daily chores should consider an assisted living facility, where staff are on site 24 hours a day to provide personal care and assistance. You can find communities that offer assisted living services in Arizona in our
Assisted Living
and
Care Homes
categories.
Back to Top